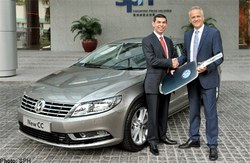 The Straits Times (ST) and Volkswagen Group Singapore are teaming up for the sixth year as part of ST's readers engagement and community outreach.
Since 2007, Volkswagen has been sponsoring a car each year as a contest prize for readers of ST.
This year, it is donating a Volkswagen CC ( 1.8 TSI ), worth $107,500 (without COE, road tax, registration fee and insurance), for a charity auction being organised by ST in conjunction with its upcoming 167th anniversary.
The bid will start from $80,000, in increments of $1,000. All the proceeds from the auction will go towards sponsoring one-year subscriptions to ST for some 1,000 low-income families. A yearly subscription to the ST costs about $300.
Dr Zeno Kerschbaumer, managing director of Volkswagen Group Singapore, presented the car to ST editor Warren Fernandez this morning at the SPH News Centre in Toa Payoh North.
Said ST editor Warren Fernandez: "We at ST are delighted to partner with Volkswagen once again for this worthwhile project. Those who bid for this car will help drive our efforts to reach out and support the less well-off in our community.
"We want to give the young in these families a precious gift: access to information and a window to the world and all its possibilities. That will help them get ahead in life. We sincerely believe a daily copy of the ST delivered to their homes will do that."
Said Dr Zeno Kerschbaumer, managing director of Volkswagen Group Singapore: "It is our privilege to be partnering The Straits Times for the sixth year in succession, and we are thrilled that our cooperation in this year's Straits Times-Volkswagen STAR Auction will bring together Singaporeans from all walks of life."
"Volkswagen is a brand which over the years has become very much a part of people's lives in Singapore, just like The Straits Times. Not only will the auction winner enjoy driving the stylish Volkswagen CC four-door coupe, he or she will be benefitting hundreds of needy Singaporean families. I hope readers will bid generously for this great cause."
The bidding will start from June 4 and close on July 9. The winning bidder will be announced at the first Straits Times Appreciates Readers (STAR) concert at the Gardens by the Bay on July 15.
More details on how to bid for the VW car will be announced in ST soon.
Interested bidders can email their bids to stprojects@sph.com.sg with these details: Name of bidder or company, bid amount, home address or company's address, phone number or mobile number and email address.
They must indicate ST-VW STAR Auction in the email subject header.
This article was first published in Asiaone