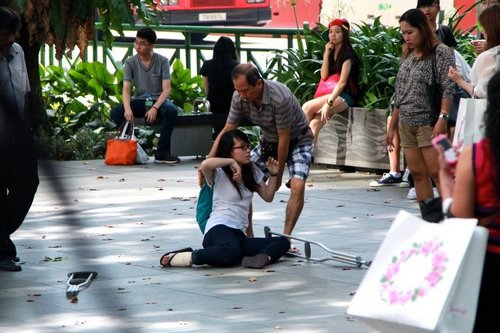 A small act of kindness can go a long way.
And a new student-driven project hopes to encourage more Singaporeans to show graciousness to those around them.
The project called "Be Nice" is also part of the Singapore Kindness Movement.
On Saturday, a group of Ngee Ann Polytechnic students set out to test if Singaporeans would stop to help.
And throughout the day, while there were those who shied away, there were many who came to the rescue.
Many of those who helped said lending a hand was not something out of the ordinary.
A helping hand, Jayamurugan, said: "I think it's my nature, I will help anyone who falls."
Also as part of the project, a booth was set up along Orchard Road for anyone to "say something nice".
Sandra Tam, a student from Ngee Ann Polytechnic and also one of the organisers of the event, said it's all about creating a better Singapore.
"(Ultimately) what we want to achieve through this event is to highlight to people that a simple act of kindness can be done anytime, anywhere to anybody and it can positively impact someone's day. Ultimately what we want to do is to promote a more gracious and kinder society."
And the Singapore Kindness Movement said it will continue to support ideas that help promote a more gracious society.
Source: CNA
Photos credited to: Be Nice Facebook Page