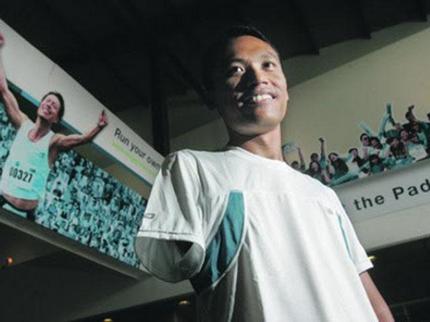 Disabled athlete Adam Kamis, otherwise known as the one-armed runner (1-arm-runner), is literally going the distance, all for the sake of charity.
He has embarked on a 162-kilometre run, which he hopes will raise funds for an 11-year-old girl's eye operation.
Adam, who lost his right arm and the use of his left arm in an accident in 2003, is determined to finish it within the 32-hour cutoff time.
"I've been training about almost five to six times a week," said Adam.
"During the training, it was in conjunction with the fasting month. I would start running about 8 to 9 o' clock after the break fast and I would train all the way until midnight, or maybe 2 to 3am in the morning."
The 33-year-old said going through all the pain is worth it, as long as his effort raises more than S$50,000.
"Sometimes you have to do crazy stuff to get the public's attention towards a cause. My reason for participating in this very gruelling event is to raise the profile of disability sports, in order to tell our disabled community that they still can get involved in sports," he said.
"(And the second reason) is to raise funds for Miss Adelyn, an 11-year-old girl. She has limited vision in her eyes so her mum wants to send her for a special eye operation to allow her to regain her sight."
Adam said he met Adelyn at the President's Star Charity show in 2010 and was inspired by her musical talent.
Adelyn's eye operation will cost about S$40,000.
Adam added that he hopes to raise S$50,000 so that the additional S$10,000 will help Adelyn's family with the cost of follow-up procedures and medication.
Adam's next challenge is completing an Ironman Triathlon next year.
An Ironman Triathlon consists of a 3.86 km swim, a 180.25 km bike race and a 42.2 km run, raced in that order and without a break.
This article was first published in CNA