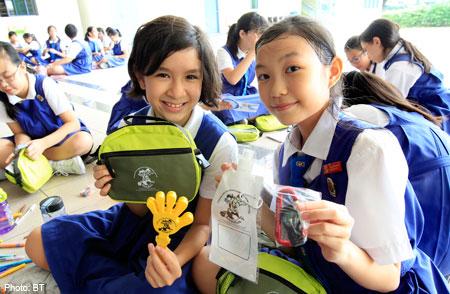 The adults have taken a back seat at this year's launch of the Children for Children outing and fund-raising event, handing over the reins to the young ones.
Koh Zi Ning, 11, and Sarah Long, 10, are two of the 1,183 pupils of CHIJ (Kellock) who are pitching in to help less privileged children of their own age.
The duo played adventurers in 2010, and took on the roles of mystical character Kung Fu Chao and an explorer called Chelsy last year. This time around, they co-chaired the press conference held yesterday.
"I remember being excited and nervous during my performance at the Singapore Zoo. But every year after that, I was more excited and less nervous," said Zi Ning of the charity event.
"Children for Children is a very powerful learning platform for our pupils," said CHIJ (Kellock) principal Clara Lim-Tan. "It provides a wonderful opportunity for values, like empathy and compassion, to be put into action as our pupils are empowered to make a positive difference in another child's life."
My World, My Adventure is this year's theme for the annual event jointly organised by The Arts House, The Business Times (BT) and CHIJ Kellock, which is affectionately dubbed the "ABC partnership".
They team up each year to provide some 1,000 less fortunate kids with an eventful Children's Day.
Their first celebration was held in the then newly opened Singapore Flyer in 2008. The children have since visited places of interest, such as the Singapore Zoo (2009), Underwater World Singapore (2010) and Resorts World Sentosa (2011). This year, they will visit Universal Studios Singapore at RWS on Oct 4, the eve of Children's Day.
"Children for Children is about children caring and doing something meaningful for their less privileged peers on Children's Day. It's also about friendship among children from different primary schools," said BT editor and organising chairman Alvin Tay.
"As this year's outing is to the highly popular Universal Studios Singapore (USS), it is not surprising that an overwhelming 1,300 less privileged children from 65 primary schools have signed up," said Mr Tay. "The organisers have decided to accept all 1,300 children even though our target was only 1,000 children."
Some 20 children from each school will be accompanied by a teacher for an adventure trail and performance facilitated and put on by 250 pupils of CHIJ Kellock, which will be followed by a romp at USS.
Venue and food sponsor RWS will open the place before operating hours for the children and will deploy 140 guides to take them around.
Acting Minister for Community Development, Youth and Sports Chan Chun Sing will grace the event. The cost of organising the event is about $70,000.
"We have invited companies to sponsor the children at $300 a child. The proceeds will be used to fund the outing. Any excess will be shared equally between The Straits Times School Pocket Money Fund and BT Budding Artists Fund," said Mr Tay.
The fund-raising call has garnered $240,000 so far. Some of the larger donations came from Michael Tien of Atlas Sound & Vision, OCBC, PSA and CWT.
This article was first published in The Business Times