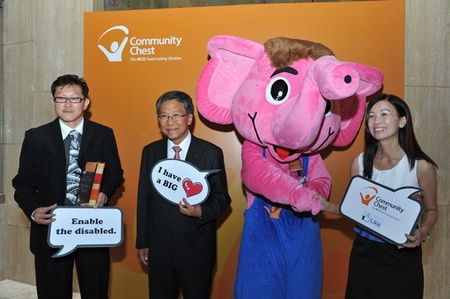 Beyond making corporate donations, companies are encouraging their staff to be more involved in supporting the Community Chest.
The Community Chest's SHARE programme – a monthly workplace giving programme where companies each pledge at least S$5,000 of donations from staff every year to the Community Chest – has seen a 12 per cent rise, or S$800,000, in donations in the last financial year from the previous year.
The companies helped the Community Chest raise S$7.4 million, which helped to drive up the Community Chest's annual fund-raising amount to a record S$52 million.
The Community Chest revealed the figures yesterday at its ceremony to recognise companies and individuals for their fund-raising efforts.
Among those commended was Singapore Airlines (SIA) which received the Community Chest's Corporate Gold Award.
SIA was lauded for recent efforts in raising funds for children with special needs through its collectible panda project.
The project was rolled out with the arrival of giant pandas Kai Kai and Jia Jia from China to Singapore. Each toy was offered to the public for a minimum donation of S$20.
SIA raised about S$380,000 through the sales of 14,000 collectibles. It will present a cheque in October to the Community Chest.
In addition, organisations like Philips Electronics, a Corporate Gold Award recipient, also roped in their staff to do more, such as volunteering to install new light bulbs for elderly beneficiaries of the Lions Befrienders, and delivering rice to the Singapore Cheshire Home.
The SHARE programme kicked off in 1984 with 230 participating companies, or more than 40,000 donors joining the initiative.
Today, more than 2,200 companies with over 220,000 donors are part of the programme.
This article was first published in CNA