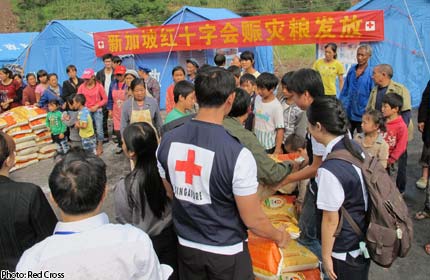 Barely a month after she joined the Singapore Red Cross (SRC) as a volunteer, a medical undergraduate was sent to an earthquake-hit region in China for relief operations.
But Miss Wu Wei, 20, a Chinese national studying at the National University of Singapore (NUS), was not deterred.
She said: "I got a phone call from SRC and was given an hour to make a decision. I felt unprepared, but I thought it was a good opportunity for me to experience relief work in a disaster zone."
Two earthquakes of 5.6 magnitude had hit a mountainous region in Yunnan, China, on Sept 7, killing at least 89 people and injuring 820 others. More than 200,000 people were displaced.
The earthquakes devastated the impoverished region in south-western China.
The SRC sent a five-member team, consisting of two SRC employees and three volunteers who are NUS medical students, to the disaster zone last Friday.
Miss Wu, a first-year NUS medical student, was the youngest in the team.
She came from Fujian, China, to Singapore on a scholarship five years ago and studied at Singapore Chinese Girls' School and Victoria Junior College.
The team faced several hurdles when they landed in Yunnan's capital, Kunming, at 7am.
Heavy rains and landslides after the earthquake made it difficult for them to reach the disaster site.
It took five hours by van to reach Zhaotong city and another hour's drive before they arrived at Yiliang, which is about 3km from the epicentre of one of the earthquakes.
The county was the worst hit, with more than 7,000 homes demolished.
Mr Dominic Leong, 30, SRC's corporate communications executive, was part of the relief team.
Recalling the damage caused by the earthquake, he said: "There were completely flattened homes, abandoned vehicles and large boulders on the roads.
"We saw some family photographs among the rubble of a house that was destroyed by a large boulder.
I couldn't help but wonder if they had managed to survive."
One encounter stuck in Miss Wu's mind.
She had met a mother who almost lost her two-month-old baby girl.
She said: "The woman was very calm at first, but she started sobbing when she recounted her story.
"She said that she was outside when the earthquake happened and she rushed back to her house to save her child."
Mr Wong Chun Yew, who is in his early 40s and head of SRC's international services, was also part of the team.
He was impressed by the resilience of the survivors he met.
"At the village, there was a simple ceremony and we distributed the rice. Everyone was very organised and friendly.
"I am happy that our efforts brought smiles to their faces," he said.
The SRC sent $200,000 worth of aid, which amounted to 200 tonnes of rice. The Singapore Government donated $50,000 to the relief operations.
The entire mission took 72 hours and the team returned to Singapore on Monday morning.
Mr Wong said: "In many events, there is very little time to prepare and many unknowns, so the volunteers have to be mentally and physically hardy."
Miss Wu was glad that she was able to extend help to the country that she grew up in.
She said: "I have travelled to Yunnan for holidays before. It is a really beautiful place, blessed with natural scenery.
"The people are also very simple and genuine. I felt very sad to see so many homes destroyed during the earthquake."
She also said that her encounter with the mother has inspired her to contribute more to society.
She said: "When I was talking to her, I kept telling her that everything was going to be okay, but there was nothing more that I could do.
"It made me realise that what I can do is very limited. I am now motivated to try harder to contribute more."
This article was first published in The New Paper.