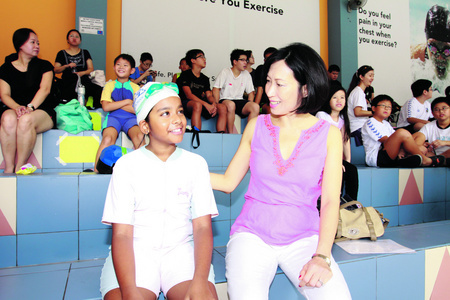 Some 220 young swimmers, including children with special needs, came together on Saturday to raise funds for disadvantaged children.
To encourage children to play their part in helping their less fortunate peers, the Tampines Changkat Youth Executive Committee (YEC) with the National University of Singapore Rotaract Club launched the Waves of Hope (WOH) Swimathon to raise S$30,000 for the Singapore Children's Society (SCS) and Children's Cancer Foundation (CCF).
Some 200 participants from 10 schools, including Raffles Institution and Methodist Girls School, swam 10 laps at the Tampines Swimming Complex. To highlight the plight of children in need, 19 children with special needs also participated.
Among them was 15-year-old Sophie Soon, who suffers from cone-rod dystrophy, a progressive disease that often results in blindness. "The community has done so much for me and I feel doing what I love best, swimming, is a great way for me to give back to society," she said.
The charity swim has so far raised S$10,000. Most of the funds will go directly to the CCF's and SCS' programmes, including counselling, therapeutic play, support groups and financial assistance, said 24-year-old Ethan Ding, Strategic Alliances Secretary, Tampines Changkat YEC.
The "most touching aspect" of the swimathon was the response from the special needs' children, who insisted on paying the registration fee even though the committee wanted to waive it. "They felt the calling to re-contribute to the disadvantaged," Mr Ding said.
Adding that it was an emotional moment when he saw a girl with one arm completing 10 laps, Mr Ding said: "It really does make me feel we can do so much more for the disadvantaged in our community and make Singapore a better place for everyone."
This article was first published in TODAY