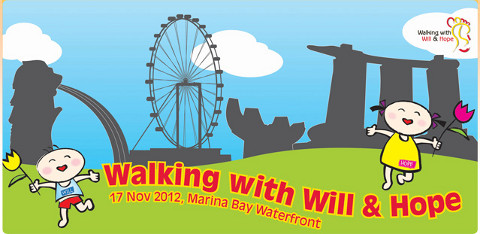 Spend a meaningful Saturday evening with us and immerse in the beautiful sights of Marina Bay as it bursts into a kaldeiscope of spectacular colours from Singapore's iconic buildings dotting the fringe of the Bay.
Take a leisurely walk along the 3.3km scenic route and enjoy magnificent views of the cascading hotel towers of Marina Bay Sands, the world's first curved "double helix" pedestrian bridge – The Helix, The Float @ Marina Bay, The Esplanade – another architectural marvel along the Bay and Singapore's world famous landmark, the Merlion.
Enjoy Early Bird Special!
Log on to www.ccf.org.sg/walkathon for full details.
Contact us at walkathon@ccf.org.sg, or call 6593 6475.
Register Now at https://register.hivelocity.com.sg/event_details.php
Date: 17 November 2012 (Saturday)
Time: 5.00 – 9.00pm
Start/End: Marina Bay Waterfront
Event details are subject to change.
About CCF 20th Anniversary Walkathon
Since 1992, Children's Cancer Foundation (CCF) has helped more than 2,000 children and their families, providing them the much needed support in their battle against the life threatening illness. In a year, CCF helps more than 550 children and their families who are at different stages of the illness by raising $4.5 million annually to fund all its free services.
Inspiring 20 years of life's journey, CCF walks together with children with cancer in their fight against the illness. CCF will continue to be unwavering in its resolve by consistently developing new platforms to enhance and expand its engagement with children and families affected by childhood cancer, and the community as a whole.
In celebration of this significant milestone, CCF hopes to encourage 3,000 participants from all walks of life to come together and walk alongside children with cancer to raise awareness of childhood cancer.