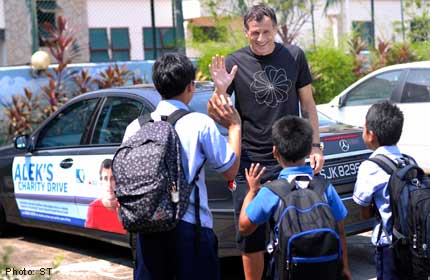 With next to no fanfare, the metallic blue Mercedes pulled into the grounds of the Pertapis Children's Home Wednesday afternoon.
Likewise, nary an eyelid was batted when one of the most recognisable faces in Singapore football stepped out, followed quickly by three primary school pupils.
For Aleksandar Duric, 42, it was a quiet start to his two-week stint as a chauffeur – two weeks in which the Tampines Rovers captain hopes to make a big impact.
"I'm doing this not just for charity but also to raise public awareness," he said. "If I can do this, so can many others."
Until Nov 4, he will ferry passengers around Singapore – for a minimum donation of $100 for a one-way journey – to raise funds for The Straits Times School PocketMoney Fund (SPMF).
Wednesday marked the start of the initiative, with three young boys from Pertapis the beneficiaries of an anonymous sponsor.
It called for Duric to pick the trio up from the home at 6am, drop them off at Xinghua Primary and then collect them at the end of their school day."He looked quite tired in the morning," one of the boys later quipped cheekily.
The hectic morning, however, was well worth the effort. Duric, whose last fund-raising venture was for Sanctuary House at last December's Standard Chartered Marathon Singapore, said: "If I can bring just a small smile to their faces, I think I've done an okay job."
Then again, the smiles on his young passengers' faces as they engaged in a friendly kickabout with their chauffeur for the day were anything but small. "I was excited all morning," gushed the eldest of the three, a 12-year-old. "This was my first time meeting him and I've been looking forward to it for a few days."
His wait finally over, it was then Great Eastern-Yeo's S-League chief executive Lim Chin who became Duric's first paying passenger last night. "He's a good role model, doing this even with his busy schedule," Mr Lim said of the evergreen striker, whose Tampines side has an RHB Singapore Cup final to play on Sunday, followed by a league title decider next Friday.
"Speaking on behalf of the league, we are very proud of what he's doing."
At the end of his first day behind the wheel, Duric stressed that he was only just getting started. "I hope that people from different walks of life will come forward," he said. "If they do their part, I'll do mine and together, we'll raise some money for the SPMF."
This article was first published in The Straits Times