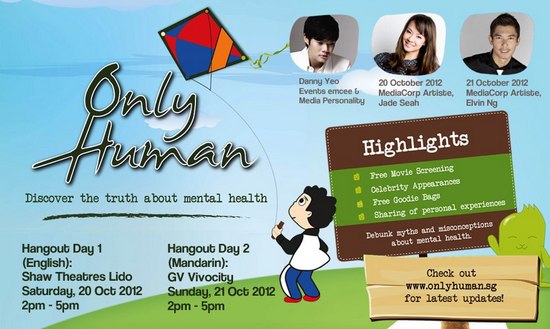 The very first of its kind, "Only Human" is a youth forum about mental health. Come join us as we seek to debunk mental health myths and misconceptions, have sharing of personal experiences, a free movie screening and even celebrity appearances by Elvin Ng and Jade Seah!
Hangout Day1
English
Date: Saturday, 20 October 2012
Time: 2pm – 5pm
Venue: Shaw Theatres Lido
Hangout Day 2
Mandarin
Date: Sunday, 21 October 2012
Time: 2pm – 5pm
Venue: Golden Village at Vivocity
Mental health problems can happen to anyone. Everyone feels down once in a while. It is "Only Human" to feel down, fall ill or to need help. Just like seeing a doctor when you come down with flu, it is important to seek help when your mind feels unwell.
Join us at "Only Human" to:
– Learn about common mental illnesses like mood disorders, anxiety disorders and schizophrenia.
– Debunk myths and misconceptions about mental health.
– Kick out the negative stigma attached to mental illness.
– Champion early help-seeking behavior and early detection of mental illness.
– Discover positive coping strategies to manage your mind.
To learn more or register for the forum (it's free!), go to www.onlyhuman.sg .