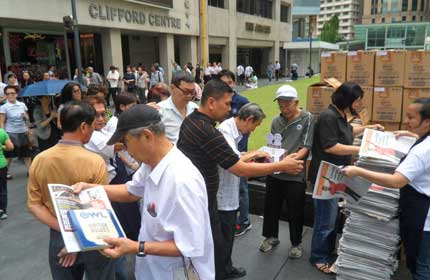 Mr Asyraaf Ahmad, 20, had been distributing flyers in the courtyard at Raffles Place when he noticed a line forming.
When he found out that the queue was to allow people to make a donation to the Project Helping Hands charity, he immediately reached for his wallet.
The reason: The charity, which aims to install motion sensors in the apartments of 1,000 elderly folks who live alone so that volunteers are alerted if they get into trouble – has a special relevance to Mr Asyraaf.
He said that his own grandmother, who lived alone, had died after a fall and his family found out only a week later.
"It's pretty helpful for the people," Mr Asyraaf said of Project Helping Hands.
For his donation, he received a box of OWL Coffee and a copy of The New Paper free of charge.
The OWL-TNP Charity Drive, which took place in front of Chevron House on Oct 22, supports a joint charity project between TNP, Lions Befrienders Service Association and Ngee Ann Polytechnic .
Long line
A line had formed long before the giveaway started at 11.15am.
After claiming their freebies, people were encouraged to donate any amount into donation boxes held by members of the Lions Befrienders Service Association.
While some donors had heard of the charity drive beforehand, others who had not, seized the opportunity to do a good deed.
"I don't know what the donation's about." said Ms Jamaliah Prince, 52, who works at a nearby bank. "But I heard the word charity, and that's just what I did."
In all, the charity drive saw 6,000 bundles of OWL Coffee and copies of TNP given away.
"We're very happy with the results, seeing so many people willing to contribute," said OWL's general manager for marketing Sherie Koh.
"I hope that the next giveaway will have even more support from the public." There was another giveaway yesterday at Buona Vista MRT station, opposite Capitol Building, and at a kiosk inside Amoy Street Food Centre.
This article was first published in The New Paper