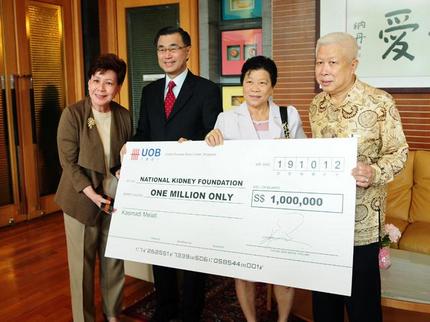 The National Kidney Foundation (NKF) has received the largest donation from a living individual donor in 13 years.
Indonesian-born Chinese businessman Mr Kasmadi Melati, who lives in Singapore, donated S$1 million.
Mr Kasmadi, who turned 68 this month, felt it was timely to contribute back to society.
He chose to help kidney patients after he saw how costly dialysis was when his best friend was coping with the condition.
His donation will help NKF provide dialysis and rehabilitative care at highly-subsidised rates.
More than half of NKF's patients pay less than S$50 a month out-of-pocket, compared with as much as S$3,000 at private dialysis centres.
NKF's incoming chairman, Mr Koh Poh Tiong, said: "The last fiscal year we were short of about S$5 million, so the S$1 million coming in is really a big help for us. As you know…each dialysis patient sits down at the station here on the chair three times a week, 13 times a month.
"So this S$1 million will help treat about 50 patients for the whole year. Most of these patients are not able to afford this dialysis, or some of them only pay S$50, which means on a monthly basis, they only pay S$4 on average, per dialysis."
Dialysis patient, Nuzan Ajjamudi, said: "I can't take it if I don't go for dialysis at least once every week. What more if I don't get any treatment at all? I do not think I can live like that."
As at 30 June, NKF serves 3,033 patients and beneficiaries.
More funds are needed to build four new dialysis centres as NKF expects to treat another 500 new patients by 2016.
In 1999, chairman of SUTL Group, Mr Tay Choon Hye who has since passed on, donated S$5 million to the NKF to set up a dialysis centre.
Over the years, NKF also received large donations of over S$1 million from individuals, but these were from individuals who have bequeathed their money and assets.
This article was first published in CNA