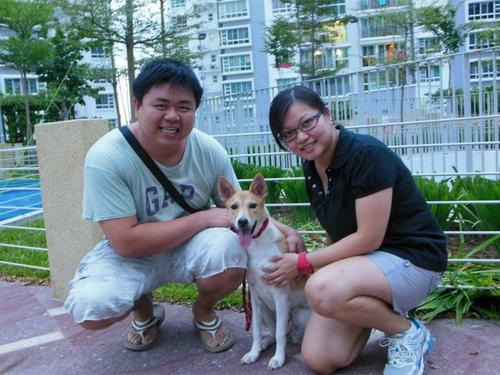 The first dog adopted by an HDB resident under a pilot project to re-home cross-breeds is settling in well, with a loving and supportive family and neighbourhood.
The Society for the Prevention of Cruelty to Animals (SPCA) said in an update on Thursday that Miko the dog has adapted to life in her new home very well.
Miko was adopted out to a Housing & Development Board (HDB) flat resident in June through Project ADORE, which was mooted by SPCA and Action for Singapore Dogs (ASD) last year.
It is part of a pilot project by the Ministry of National Development (MND) to re-home cross-breeds to HDB residents.
SPCA said to pre-empt disputes and to maintain harmony among residents, Project ADORE has very strict specifications and requirements.
Only cross-breeds or mongrels are allowed and these must be adopted from either SPCA or ASD.
There are restrictions in height and weight.
Dogs are selected on their temperament – those which are more quiet and tame are considered more suitable.
Applicants must go through a stringent adoption process to access their ability and willingness to ensure that the dog adapts to the HDB environment well.
Miko is a two-and-a-half-year-old brown and white female dog that was found wandering in the Jurong area in May this year.
She knew basic commands like 'sit' and 'down' and appeared to either be a lost or abandoned dog.
SPCA found her very well-behaved and quiet, and with her small build, she was perfect for Project ADORE.
Her new owner is Ms Sharon Lee, who had kept a cross-breed for 12 years and has the experience and willingness to go that extra mile for Miko.
After approval from the Agri-Food and Veterinary Authority and MND, Ms Lee and her husband sought their neighbours' opinions and consent.
SPCA said there have been no complaints so far.
"We feel that people need to know about how wonderful cross-breeds can be and with Project ADORE, it is gratifying that MND is making the move to allow HDB home dwellers to adopt cross-breeds," said Ms Lee.
Two other dogs, Hazel and Phoebe, were adopted under Project ADORE in July and August.
This article was first published in CNA