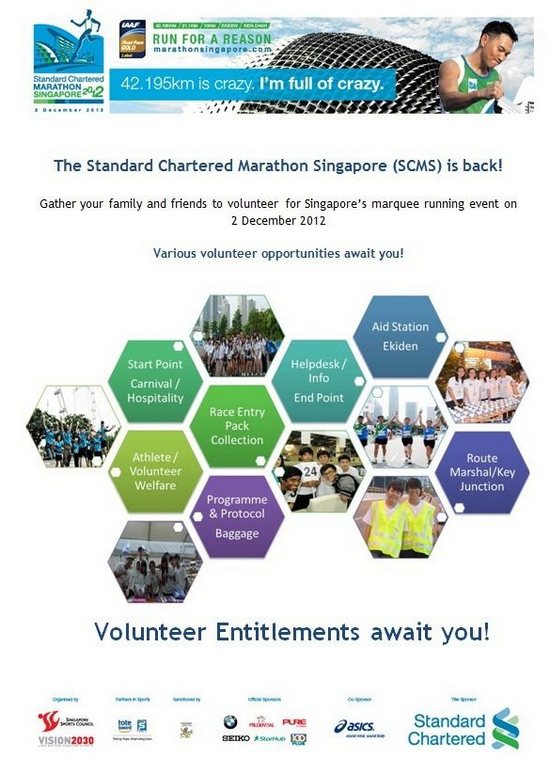 The Standard Chartered Marathon Singapore (SCMS) is back!
Gather your family and friends to volunteer for Singapore's marquee running event on 2 December 2012
Volunteer Registration
Visit www.sportsvolunteer.sg to register as a SCMS 2012 Volunteer today!
Race Entry Pack Collection
Race Day
Volunteer Entitlement
o Being part of Singapore's Marquee Running Event
o Exclusive ASICS T-Shirt
o Electronic Certificate of Participation
o Goodie Bag
o S$20 transport allowance (via Bank Transfer)
*Volunteers are required to report past midnight for duties.
o CIP Hours (If Applicable)
Volunteer Leader Registration
If you would like to challenge yourself in a leading role, join us as a volunteer leader!
Spread your enthusiasm and lead your team of volunteers to greater heights and performance.
All applicants will be required to undergo an interview to be selected.
Leaders will also need to attend all the training and recce session from end of Oct to end of Nov.
Further information will be provided to you at a later stage.
If you have any questions, please do not hesitate to contact us at the following:
o REPC: repc@sportsvolunteer.sg or 6500 5149
o RACE DAY: scms@sportsvolunteer.sg or 6799 5916