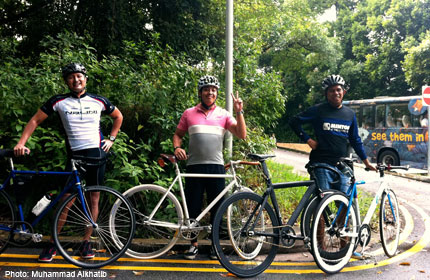 Nine hours of non-stop cycling every day for four days, come rain or shine, and with hilly roads and windy conditions to contend with as well.
This is what 24 cyclists from Singapore and Malaysia will go through during a cross-border charity ride from Penang to Pasir Ris in January.
They will cover an endurance- testing 850km route.
The 12 Singapore cyclists from the group aim to raise $200,000 for dementia patients, while their Malaysian counterparts hope to garner RM150,000 (S$60,000) for underprivileged students.
Called Apex 850, the charity project is organised by the Apex community-service clubs in Singapore and Malaysia.
The funds will benefit the 210 dementia patients at the Apex Harmony Lodge here, and financially-needy tertiary students in Malaysia through the Apex Penang Education Fund.
Mr Clifford Lee, 41, one of the cyclists and a member of the lodge's management committee, said that Apex 850 was inspired by a 500km charity ride he led in August, from Singapore to Malacca and back.
Raising funds for Apex Harmony Lodge through the upcoming charity ride is important as dementia is a "growing problem" here, said Mr Lee, adding that there is a one-year waiting list for patient admissions to the lodge.
Apex 850 rider Muhammad Alkhatib, 37, has witnessed the effects of dementia.
His late "great-grand-godmother" battled the illness over five years. The director of a Web-solutions company said it was "very trying" to see the woman who had taken care of him, as well as his mother and grandmother, suddenly do hurtful things.
The public can donate via www.apexharmony.org.sg/apex850/
All proceeds will go to the charitable causes, as the cyclists will pay for expenses incurred during the ride.
Source: My Paper