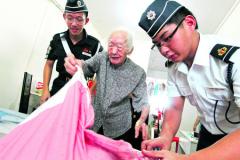 She holds the fort at home by day, caring for two mentally ill children in their 50s. By night, a good rest can elude Mdm Ang Suan Cheok, with bedbugs sharing her mattress and drawing blood from her reed-thin frame.
Her wish this Christmas: Three new mattresses and bedsheet sets, as well as a new metal bed frame to replace the broken one that her son is now using.
Flipping a mattress in her Waterloo Street flat on Sunday, Mdm Ang showed members of the Boys' Brigade and TODAY the bedbugs and proceeded to squash some of them. "I can't sleep when they bite me," she said in Hokkien.
With help from the public and corporate sponsors, the frail but spirited 83-year-old's wish might just be fulfilled in the month ahead.
To mark its 25th anniversary this year, the Boys' Brigade Share-a-Gift project hopes to reach out to a record 30,285 beneficiaries. About 22,000 of them will receive food packs filled with daily essentials, and another 8,200 will have specific wishes fulfilled.
The project kicks off next Tuesday, with 14 collection points islandwide. Three of these spots – FairPrice Xtra at AMK Hub, Jurong Point and nex mall in Serangoon – will also have Specific Wish Trees. The public is invited to participate by donating gifts and could join in delivering them on Dec 8 and 15 to the beneficiaries.
Prudential Singapore, NTUC FairPrice and Far East Organization are among the companies that are chipping in. Boys' Brigade cadets past and present are also doing their bit – the older ones will take on roles like overseeing warehouse operations, while younger ones will be sorting out donations and helping with gift deliveries.
"At least we can do something constructive during the holidays," said St Hilda's Secondary's Jasper Onn, 15, who will be spending 20 days next month stationed at one of the collection booths.
For beneficiaries like Mdm Ang, the gifts are something they would not otherwise be able to afford.
Besides the two children who live with her, she also has a married daughter who has kidney problems and is unable to work and contribute financially to the household. Back in 2009, one of her children had set fire to the flat and the family was without light fittings until Share-a-Gift fulfilled their wish. In 2010, she received a single metal frame bed and mattress; last year, the gift was diet replacement milk.
"We like the Milo sachets (that come with the food packs) too," said Ms Soh Peck Lian, 62, Mdm Ang's married oldest child, with a smile.
Source: TODAY