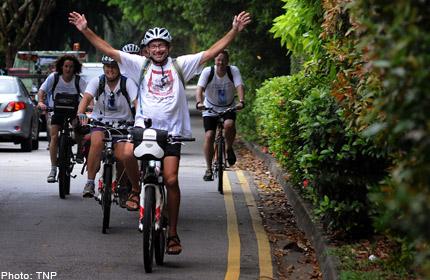 By all accounts, Mr Walter van Praag should not even be alive.
The Dutch-born Australian, who lives in Tasmania, suffers from cystic fibrosis, a genetic life-threatening condition. Few who have this illness live past their 20s, according to studies.
Mr van Praag is 47.
And despite the fact that he survives on only 45 per cent lung capacity and takes a complex regimen of medicine and injections daily, he recently embarked on a 5,000km cycling journey from Hanoi, Vietnam, to Singapore for charity.
"If it wasn't for cystic fibrosis, he'd have happily rode around the world," said his partner, Ms Ree Loane.
He reached Singapore last Saturday and has managed to raise about A$7,400 (S$9,400) for Cystic Fibrosis Australia.
The donations can be made online via his blog and will go to Cystic Fibrosis Australia, of which he is an ambassador.
Mr van Praag's target is to raise A$10,000 for the organisation and also to raise awareness about cystic fibrosis.
For two months, Mr van Praag braved the arduous journey from Hanoi to Singapore on electrically-assisted bicycles.
Together with a team of cyclist friends, he made his way through Vietnam, Cambodia, Thailand and Malaysia before finally arriving in Singapore.
At 2pm on Saturday, Mr van Praag and his cycling team reached their finishing point at Hollandse Club here to loud cheers from family, friends and supporters.
The team was bursting with so much energy and enthusiasm that one could hardly tell that they had just completed a cycling feat.
The New Paper sat down with Mr van Praag and the team for a chat just minutes after they reached their finishing point.
Mr van Praag said he felt sad that the trip was over.
"Everyday was a different adventure. There was always something unexpected," he said.
In Thailand, Mr van Praag fell off his bicycle when he stopped for a photograph. He was not paying attention and had hit his brakes too hard.
"I had a scar on my arm and my pinkie (finger) was hurt. Nothing else. We were very, very lucky. We had a guardian angel with us the whole time," he said.
The cyclists also had to cycle across slippery hills in the rain in Vietnam.
"There was heavy rain and a lot of mud at the bottom of the hills. We cycled at an average speed of 60kmh downhill and the rain was coming at us from the opposite direction," said Mr Alastair Taylor, 53, a full-time illustrator, painter and children's book author.
He cycled the full 5,000km from Hanoi to Singapore with Mr van Praag.
Ms Loane, a full-time housewife, who did not accompany her partner on the trip, said that Mr van Praag had a severe lung infection after cycling through heavily-polluted cities on the way from Vietnam to Cambodia.
Encouragement
He coughed up blood and was forced to stop and rest for three days. Fortunately, he got better thanks to antibiotics and the encouragement from his team.
Ms Loane, who is in her 50s, met Mr van Praag while they were volunteering at the Lions Club in Australia. She said that throughout the trip, she chatted with him online four times a day. "I growled at him if he didn't let me know where he was (on the journey)," she said.
Mr van Praag carried 1,500 pills with him on the trip. He also had insulin injections two to three times a day.
The 5,000km cycling trip from Hanoi to Singapore has been his longest so far. His second longest trip was 4,395km long, when he cycled from Paris to Istanbul five years ago.
He has published a book and produced a documentary about the trip.
Mr van Praag's next adventure would be an 800km walk across Spain – the El Camino Pilgrimage. To follow his adventures and to lend him your support, visit his blog at www.coughing4cf.com.
Source: The New Paper