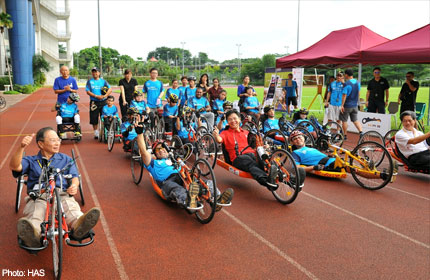 Athletes from the Handcycling Association Singapore (HAS) have set themselves a goal: To field a team of two to three physically challenged handcyclists who will fly the Singapore flag at the 2016 Rio de Janeiro Paralympics, the world's biggest sporting event for disabled athletes.
HAS president and co-founder, Foo Fung-Liang, shared the team's vision at the Association's fourth annual HAS/National Disability League Sprint Race today at ITE College East in Simei.
"Handcycling is now a recognised medal sport. We will be training hard over the next few years to compete in various regional and international handcycling meets in order to groom a team to compete at Rio 2016," said Fung, as he is better known, who lost the use of his body from his stomach down after being shot several times in an armed robbery in Louisiana.
Today's Sprint Race featured six races, with 22 athletes of different ages and ability competing against one another.
Acting Minister for Culture, Community and Youth, Lawrence Wong, was Guest-of-Honour at the race, where he mingled with the HAS athletes and parents, and handcycled a lap around the stadium, flanked by other VIPs and handcyclists, before flagging off the first race featuring senior HAS athletes.
In all, some 300 parents, family members, students and medical and rehabilitation professionals from around Singapore cheered the athletes on at Saturday's event.
The event is part of the one and a half month-long National Disability League 2012, an annual multi-disability sports tournament by the Singapore Disability Sports Council.
All HAS athletes are physically challenged, with conditions ranging from spinal cord injuries to cerebral palsy. All have benefited physically and mentally to overcome their disabilities, through taking up the sport.
The HAS also aims to introduce handcycling as an effective way for disabled people in Singapore to rehabilitate themselves and develop their mental and physical endurance. To this end, Fung and HAS members regularly give talks and showcase the sport's benefits at schools, hospitals and events for caregivers.
Source: AsiaOne