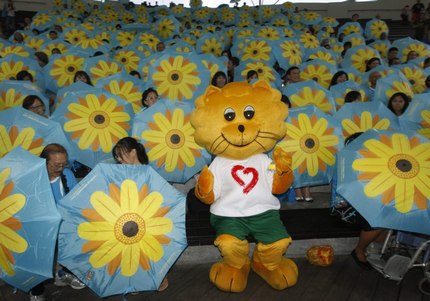 Laugh your way to kindness. This is the message that the Singapore Kindness Movement hopes to bring across with an evening of comedic performances.
Artistes from local theatre company Dream Academy had the audience in stitches with satirical and musical performances on how to demonstrate kindness while going about their daily routines.
The 1,000-strong audience also used their Singapore Kindness Movement daisy umbrellas to create a "Nation of Kindness" formation and pledged to make kindness a way of life.
Dr William Wan, General-Secretary of the Singapore Kindness Movement, said: "Kindness and happiness are related. If you are kind, you're going to be happy. If you're happy, you're going to be kind. Stand-up comedy is an expression of happiness and to be able to laugh at ourselves is a sign of happiness."
People's Association's chief executive director Yam Ah Mee said: "Kindness is not about big gestures, but something small that can make a difference in other people's lives. All Singaporeans, we can do something about it, by making it special for your neighbours, your friends, and others in the community.
"For example, when you are on the bus and trains, and if there is elderly around, or a pregnant woman around, or somebody who needs the seat more than you, you can always give it to the others."
Source: CNA