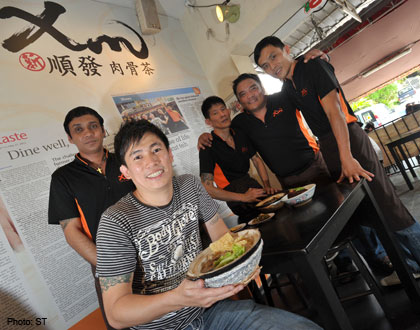 New Soon Huat, a restaurant just over a year old, has had regulars coming back for its signature dish, bak kut teh.
But it serves more than good food. The restaurant, which hires ex-offenders and former drug addicts, also sets aside a tenth of its profits to help them financially, such as paying for medical bills or offering scholarships if they choose to further their studies.
It has two outlets, in Jalan Kayu and Ang Mo Kio, with a third one opening early next year.
The restaurant was named Social Enterprise Start-Up of the Year at the inaugural President's Challenge Social Enterprise Award. It is the only award here that recognises the contributions of social enterprises.
New Soon Huat joined three winners from two other categories who received the awards from President Tony Tan Keng Yam and Acting Minister for Social and Family Development Chan Chun Sing at the Istana last night.
The winners each received a trophy and cash prizes of between $10,000 and $15,000.
The Social Enterprise of the Year award went to A-Changin, which trains women in need to offer alteration services, and restaurant chain Eighteen Chefs, which employs former offenders.
A-Changin has two retail outlets, in Chevron House and Mandarin Gallery, while Eighteen Chefs has three outlets, in Simei, Fusionopolis and Tiong Bahru.
Adrenaline Events and Education won Youth Social Enterprise of the Year, which is given out to organisations founded and managed by people under 35.
Applicants were evaluated based on their social impact, corporate governance, business performance and financial viability, innovation and productivity improvement, and working environment. A total of 37 applications were received – about 20 per cent of the social enterprises here.
Mr Chan said last night: "(Social enterprises) aim to reach out to the disadvantaged in our society through sustainable business models, and play an important role in empowering the disadvantaged and giving them dignity."
New Soon Huat was founded by ex-convict Jabez Tan, 38, and two partners. More than half of its 18 staff are ex-offenders and former drug abusers.
Mr Tan, who is also the eatery's operations director, said that when the restaurant was set up, some employees had cooking skills but many did not have business skills. "During the first few months, almost every night after we closed the shop we would have a debrief (session) within our team, so we think of which areas we need to improve," he said.
Mr Tan, who goes to both outlets daily to check the food quality, said: "The business must earn profits. But after we earn the money, we use it to help ex-offenders … The business must be successful in order to help people."
At last night's ceremony, three social enterprises also received special mentions: Credit Counselling Singapore Society, Xin Yuan Group, which sells candies under the brand name of Aii, and Givola, which operates online fund-raising portal Give.sg. They each received a plaque from Mr Chan.
Source: The Straits Times