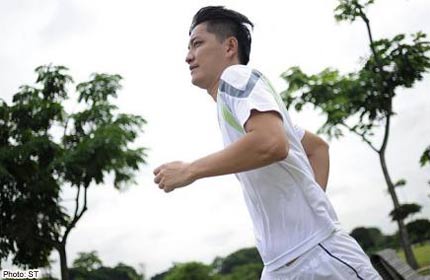 Financial consultant Sean Ong used to spend the Christmas season lounging on the couch, watching re-runs of festive movies on TV.
But this Christmas Eve will be different for the 34-year-old.
He will be running from his flat in Ang Mo Kio all the way to Club Rainbow's office in Upper Cross Street to extend his festive wishes to children suffering from chronic and life-threatening illnesses.
This last run is a fitting closure for an endeavour to which he is faithfully committed – running 1,000km in 100 days in a task culminating on Christmas Eve.
For going the distance, he hopes to raise funds for children from Club Rainbow, a charity that supports chronically ill children.
Since Sept 17, he has been running some 10km every morning largely in his Ang Mo Kio neighbourhood before heading to work. His smartphone tracks the distance he has covered and he uploads the information daily onto a Facebook page, so that donors are kept up to date on his progress.
One might assume that Mr Ong is a born runner, but pounding the pavement does not come naturally to him.
Childhood asthma limited his ability to play sports and he took up activities such as playing the harmonica in school instead.
Before embarking on this project, called "Run 4 Their Lives Singapore", he did leisure runs of not more than 3km, once a month.
"I am not athletic and I hate running. But it has to cost me some effort to get people to sit up, take notice and donate," said Mr Ong, who admitted that it has been a lonely run most of the time.
"Day after day when I run, sometimes in the rain, I wonder if anybody knows, if anybody cares and whether the donations are coming in," he said.
Mr Gregory Vijayendran, 44, president of Club Rainbow (Singapore), said Mr Ong's run was symbolic of the journey chronically ill children undertake.
"The children run not a short sprint but a life marathon filled with setbacks and struggles. The run is powerfully symbolic of that life marathon where the children demonstrate inner resilience and courage time and again," said Mr Vijayendran.
It was also the inner strength epitomised by the late Canadian Terry Fox, who inspired the run. Mr Fox committed himself to running across Canada despite having lost a leg to bone cancer, to raise money for cancer research.
Four years ago, Mr Ong found himself staring in silent admiration at a 3m bronze statue of Mr Fox overlooking Lake Superior in Ontario. The site was where the Canadian was forced to give up his run after succumbing to a final onslaught of cancer.
Mr Ong knew then that he wanted to commit to a cause larger than himself.
However, it was only when his baby girl was born last year that he decided to do something for charity. He was grateful that his daughter was given a clean bill of health and wanted to help other children who were not so fortunate.
"Call it a mid-life crisis of sorts, I was sick of talking about money with my friends, about stocks, property and cars," said Mr Ong, who has worked in the financial sector for the last 10 years. He is now a partner at IPP Financial Advisers.
"If it's going to be about money, this time it will be raising money for charity."
To date, he has raised more than $4,000 and hopes to reach a target of $10,000.
Ms Jo Tang, 34, donated $100 to the cause, although she does not know Mr Ong personally.
The teacher said: "I heard about the run from my friend and donated as I could identify with why he was running. I have two young girls and am constantly thankful that they are healthy."
To donate, go to www.facebook.com/run4theirlivessingapore
Source: The Straits Times