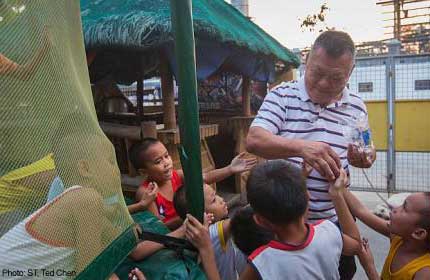 Mr Thomas Wee, 73, is a hero in Lalakhan, a rural neighbourhood in Santa Maria, a village north of Manila.
And for good reason. Not only did the Singaporean set up a soup kitchen which feeds the poor and the needy in the village, he also built Willing Hearts Orphanage, which provides shelter and education for orphans, abandoned children and those living on the streets in the province.
Mr Wee never set out to be a hero. All the father of two grown-up children wanted to do was to help his maid who had asked him to send some old clothes to the poor in her village.
But that one 50kg box in 1998 and a problem with his right leg led him down the path of philanthropy. For most of his life, all Mr Wee cared about was making money, and having a good time.
He had a wild and colourful past which included running an illegal gambling syndicate from the late 1970s to the early 1980s.
The second of five children of a store clerk and a housewife, he left school after completing his secondary education at St Joseph's Institution in 1957. He joined the Singapore General Hospital where his job as a photographer required him to take pictures of bodies in the mortuary. Although his salary was barely $400, he took home a lot more because he was an illegal moneylender to housemen, doctors and other staff at the hospital.
"The doctors liked to play gin rummy and they needed cash. When they gave me a cheque for $100, I'd give them $90. Even professors borrowed from me," says Mr Wee, who charged 10 per cent interest.
He also earned extra money as a bantamweight boxer, having been trained by British soldiers who were stationed here.
"I have hurt people pretty badly. The Chinese say I have very 'heavy' hands because of these," he says, pointing to two lines which run diagonally across both palms. People with such lines are believed to be capable of inflicting much pain and damage with their hands.
"That's why I've never dared to lay a hand on my children," says Mr Lee, who got married to a school teacher when he was 30. They have a son, 43, and a daughter, 41; both are lawyers.
After leaving SGH, he became an illegal bookie before starting a gambling syndicate which would make him thousands of dollars during weekends. He also went into the food business, initially supplying lunch boxes to homes and offices before venturing successfully into catering.
With the money he was making, the enterprising Mr Wee started an 18-room budget hotel in Tanjung Pinang, Indonesia. "People were going there for women and alcohol, and I knew there was money to be made," he says.
In 10 years, he opened three hotels, each one bigger than the last.
Life was good, and he was rolling in the dough, wearing gold Rolexes and driving flashy Mercedes-Benz cars.
He was more than happy to help his maid, Ms Maria Santa Teresa, when she asked if he could send some old clothes to the poor in her village in 1998. The second of nine children of pig farmers, she had been working for him for 12 years by then. He sent a 50kg box of used clothes. It became a monthly practice and, in addition to used clothes, he would also pack tinned food.
Two years later, curious to see who he was helping, he went to Lalakhan with his wife and children and was appalled by the living conditions of the villagers there.
"I saw the houses, so different from ours. Nearly 20 people cram into one small place. When it rains, the water pours in. I saw bare-bodied children running around, no games to play," he recalls.
He spent nearly $200,000 to buy a plot of land and build a new home for Ms Santa Teresa and her five sisters. The place doubled as a distribution centre for the goods he sent over.
"The house was big and people thought the family was rich and went there looking for food," he says. So Mr Wee decided to set aside more than $1,000 each month to feed the poor and hungry who showed up on the doorstep, many of whom were abandoned street children.
He did not think much of his contributions then. "I was still doing my illegal business so it was easy come, easy go," he says.
And then about six years ago, his right leg started giving him a lot of pain. His surgeon told him he needed knee replacement surgery.
Fearful that he may lose the use of his limb, he started praying. When he recovered without surgery, he saw it as a sign.
"God gave me back my right leg and wanted me to do good," he says. "I decided it was my calling."
Shortly after, Mr Wee passed Ms Santa Teresa a chunky gold chain to sell. It fetched $9,000 at a jewellery store in Toa Payoh. He raised another $190,000 by trading in his Mercedes for a van and selling one of his hotels in Indonesia, as well as his five-room flat in Potong Pasir. He moved in with his son.
He used the money to buy an adjacent plot of land to build an extension so that he could take in more children. Ms Santa Teresa, 51, had by then left Singapore and was helping him run the place full-time.
In 2008, he decided to officially register his project as Willing Hearts Orphanage and hire a social worker so that he could accept more children. The orphanage is now home to 16 children; the community soup kitchen feeds nearly 150 villagers.
But the septuagenarian – who visits Lalakhan every two months – is not resting on his laurels.
He plans to build a 483 sq m new wing which can accommodate another 30 children. A good friend donated $40,000 to the project.
To help make what he does sustainable, Mr Wee has started a few initiatives. He operates a 740 sq ft thrift store called St Isidor's Centre at Block 114, Ang Ko Mio Avenue 4, and opened a used goods store in Lalakhan, run by Ms Santa Teresa. The profits are used to help meet Willing Hearts' operating expenses.
His wares in both shops are mostly donations from members of churches, including the one he attends, St Vincent de Paul in Yio Chu Kang. The $3,200 monthly rent for the thrift store and other miscellaneous expenses are footed by his friend, Mr Dave Cher, 47.
The former territory manager of an IT firm gave up his job in June to help Mr Wee. "I've always wanted to do something to help the needy but never got round to doing it. When you see an old man like him doing what he does, you ask yourself what are you waiting for."
The father of two young children is helping Mr Wee by digging into his savings. "When things are in order and I have to go back and take care of my family, I will."
Besides the thrift stores, Mr Wee has also started operating a homestay at the orphanage in Lalakhan.
Visitors pay $380 for a six-day stay with full board to get an understanding of the work at Willing Hearts. In the past year, it has been receiving about 10 visitors a month, mostly from schools and church groups in Singapore.
The plan is to accommodate 30 visitors a month.
"This will help pay for what we do," says the grandfather of five.
"And if they want to help us after seeing and understanding what we do, I'd be very happy. I can just stretch out my hand and ask you to donate money. But there would be no feeling if you don't actually understand what I do."
He says he has probably spent more than half a million dollars to build his projects.
His family is very supportive of his work. His wife, Madam Alice Seah, 63, says: "I'm very touched by what he is doing. I support it totally because I really believe we have to give back to society."
The same could not be said of some of his friends. Mr Wee says: "They see that I now drive a van and have sold my house. They started looking down on me and ignoring me. They assumed I was down on my luck. No one even asked me why."
In Lalakhan, however, the villagers will tell you there is no kinder man. Ms Santa Teresa says: "I never had to ask for anything. He saw how we lived and he would ask me, what more do you need? I would tell him about the homeless children, the hungry people.
"Then we would discuss what could be done," she says.
And Mr Wee will do it.
Source: The Straits Times