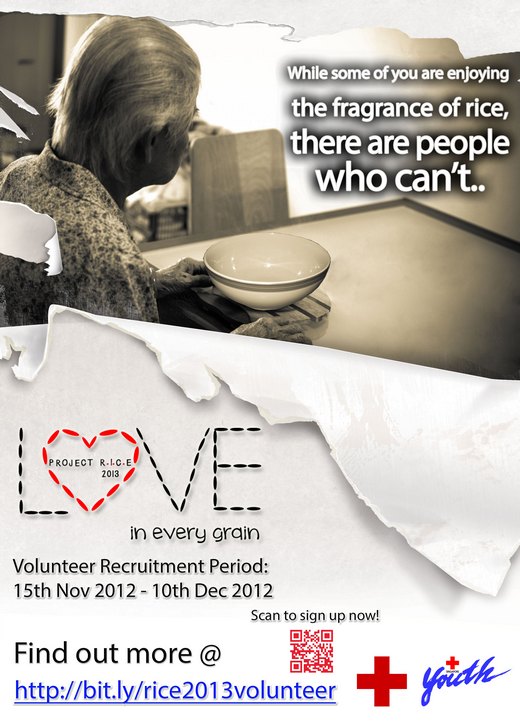 Project R.I.C.E 2013 is an annual nationwide community service project organised by the Red Cross Youth (SMU Chapter) of the Singapore Red Cross. It was officially established in 2008 based on two smaller R.I.C.E Projects conducted in 2008 and then the larger scale projects held in 2009 and 2010. To date, Project R.I.C.E had raised over 80000kg of rice, and benefitting many beneficiaries in our local society.
The theme for Project R.I.C.E 2013 is entitled 'Love In Every Grain'. We hope to emulate and aim to exceed the successes of the past years' project by aiming to benefit more than 16,800 individuals in our community. We also hope to spread the message of volunteerism as well as show our community how easy it is to give back to society in a meaningful and impactful way.
Project R.I.C.E 2013 will be carried out on a nation-wide scale. The event days for Project R.I.C.E 2013 are as follows:
12, 13, 20 January 2013: Supermarket booth collection
In partnership with several local supermarkets, booths at various locations will be set up to promote the project as well as to encourage the public to purchase rice at the supermarkets. The rice will then be donated to our beneficiaries.
19 January 2013: Door to door publicity
Volunteers will assist in handing out flyers on our project to residents at pre-assigned blocks. The volunteers will also respond to any queries from the public on Project R.I.C.E 2013 and the donation process.
2 February 2013: Collection
Volunteers will return to their pre-assigned blocks to collect physical packets of rice that the public donates.
3 February 2013: Distribution
Volunteers will assist in distributing the collected rice to our various beneficiaries. In addition, an online donation portal on the Singapore Red Cross website (www.redcross.org.sg) will be set up from 12 to 25 January 2013.
Volunteers from Red Cross Youth will be conducting door-to-door visits to collect rice on 2 February 2013 from 9am – 6pm!