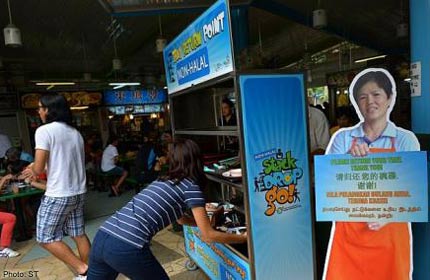 The practice of patrons clearing their own tables at hawker centres seems to be having a growing ripple effect, after a nudge from the National Environment Agency (NEA).
Observation surveys done by the NEA, which is spearheading the renewed tray-return initiative, found that more people return their trays during the breakfast and lunch peak hours, compared with the number during the post-lunch period between 3pm and 5pm.
For example, at Tampines Round Market, up to 80 per cent of the patrons return trays during the peak meal periods, compared with about 15 per cent at off-peak times.
In total, nearly 18,000 trays were returned between Nov 11 and Nov 30 at three hawker centres where the pilot initiative was launched.
NEA chief executive Andrew Tan said that while the number was "encouraging", it also showed that patrons needed to be reminded to return their trays.
The high return rates came during peak periods when volunteers were around, he noted.
The latest initiative follows previous moves to get people to return their trays. This time, the results are more encouraging.
Mr Tan said there is still some way to go before the practice takes root.
"It would take at least a year of sustained effort, if not more…Volunteers would be stationed at the centres for at least six months," said Mr Tan, who visited Tiong Bahru Market and Zion Riverside Food Centre, where the campaign was launched on Saturday.
Hawkers at Tampines Round Market credited the volunteers for the initiative's success so far.
"If there were suddenly no volunteers, trays would still be on the tables. They are quite important for the scheme to be a success," said Mr Chua Wen Xing, 25, who works at a noodle stall.
Since Nov 11, the tray-return initiative has been rolled out at six hawker centres, the first of which was West Coast Hawker Centre. Tray-return stations were set up at these centres, with reminders pasted on every table.
The surveys found that diners were also more likely to clear their tables when they ate from crockery placed on trays.
More than 40,000 trays were bought by the NEA to be distributed to stalls involved in the campaign. Mr Tan said the NEA will continue to look into ways to improve the tray-return system.
On Saturday, Tanjong Pagar GRC MP Indranee Rajah, who was at the two hawker centres where the campaign was launched, said: "The real challenge is how to sustain it in the long term."
Mr Lee Wei Qiang, a volunteer at the Tampines Round Market, said a minority of people are resistant to the practice. "They think they should not have to clear their own tables because they paid to eat there," he said.
Audiologist Crystal Cheng, 27, said the good habit will benefit all diners.
"If everyone helps to clear up, there won't be a situation where diners have to sit at a dirty table and wait for it to be cleared."
Human resource consultant Rebecca Chia, 40, who was seen clearing up after her meal at Tiong Bahru Market yesterday, felt that the NEA should persist until returning trays becomes "normal behaviour".
She said: "It will take a long time but we should not give up halfway."
Source: The Straits Times