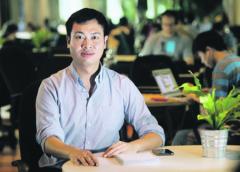 Even as he enjoyed a career as a high-flying accountant at PricewaterhouseCoopers (PwC), Mr Peter Yang was looking to do more to help those less fortunate than him.
He chose the usual route of volunteering at a hospice, but despite his good intentions, providing comfort to terminally-ill patients was a job he was not equipped to handle.
"The patients had tubes all over them and they were in the last stages of their lives. I didn't know how to help. Do I feel pity? I felt very lost because I was not trained to be a social worker. I realised this was not the best way for me to contribute," said Mr Yang, a China-born Singaporean Permanent Resident who has been living and working in the Republic since 2006.
He realised that to make a difference, he needed a platform that made better use of his expertise in accounting and finance. He saw that several of his friends who were running social enterprises did not have the time or ability to handle the back-end aspects of their business, such as accounting, legal and IT services.
"I had the idea of using my skills to fit with my passion for social causes. I saw that many non-profit organisations couldn't afford or access finance or legal services, so there was a gap I wanted to fill," said Mr Yang.
He quit his job at PwC – where he had spent eight years and been double-promoted twice – to start Empact in September last year, a business that offers social enterprises and non-profit organisations professional services at rates that are at least 50 per cent below commercial ones.
Mr Yang, 31, started the company with his own savings, with further funding coming from a S$120,000 grant from the National Volunteer and Philanthropy Centre.
To make his offerings affordable, he struck on the idea of using volunteers to provide the required services. He started by asking ex-colleagues and friends, but soon found that he had inadvertently tapped into an unfulfilled desire by many professionals to contribute to society.
Empact is comprised of two full-time staff, including Mr Yang, and more than 80 volunteers with backgrounds in various professions. It currently has around 17 clients, made up roughly equally of social enterprises and non-profit organisations.
To keep up with demand, he tied up with local universities, Singapore Institute of Management and Singapore Management University, to provide volunteers from accounting or law schools. In a typical project, students carry out the actual work required by Empact's client, such as bookkeeping or drafting contracts, under the guidance of a working professional volunteer. Empact acts as the front for the whole project and manages the process between clients and volunteers.
"We provide a platform for professionals to contribute by channelling their skills to help non-profit organisations and social enterprises and, in the process, make a difference to the community," explained Mr Yang.
While sourcing for volunteers has come relatively easily, finding the right skills to match his clients' needs has proven to be a bigger challenge.
"You may be accounting-trained but not be able to do bookkeeping. Or you might be able to design marketing collaterals but you cannot do strategy. So finding the exact fit is difficult," the Empact founder said.
He hopes to overcome this problem by tying up with professional services firms which can provide both a greater number of volunteers and skill-sets to meet demand.
Mr Yang is negotiating with two international firms which are keen to offer their employees as volunteers.
He is also looking to expand beyond Singapore by working with companies with offices in the region.
"We are already doing jobs in Cambodia and we have had queries from Vietnam and the Philippines. We can work with law firms which have offices in those countries," he said. "Also, many regional NGOs have their headquarters in Singapore."
As part of its social mission, the former accountant plans to channel at least 20 per cent of Empact's profits into a social cause.
But for now, he is experiencing the typical growing pains of a start-up that is taking flight.
"We need a secured office space for the volunteers and because we deal with a lot of confidential documents," said Mr Yang, who operates at the Hub Singapore, a shared space for social enterprises housed at the National Youth Council building along Orchard Road.
And, of course, there is the perennial challenge of securing funding, especially for a unique business like Empact. Some funders view the company as a second-tier social enterprise – one that provides support services rather than contributing to a social cause more tangibly.
"We need to come to a point where we are financially sustainable but we are not at that stage yet. It is hard to find a foundation who wants to fund a social-capacity builder," he said.
Source: TODAY