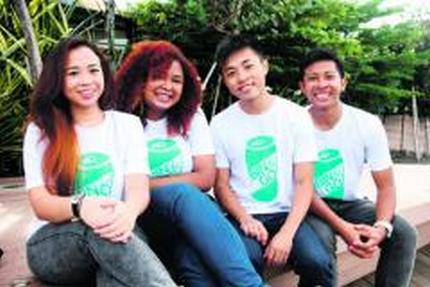 While many youths will be partying tonight, some will be doing their bit for the environment.
Dressed in beachwear and toting waterproof bags to collect used plastic cups for recycling, six young Green Ambassadors will be at the Siloso Beach Party on Sentosa from 10pm to 1am to encourage partygoers to recycle their waste. The initiative, organised by four Nanyang Technological University's Wee Kim Wee School of Communication and Information undergraduates, marks the launch of a three-month campaign to promote "fuss-free" recycling on Sentosa.
Noting the large amount of trash that would be generated by revellers, team leader Nurkhairah Sumarto, 23, said the Siloso Beach Party would be the "perfect ground" for the group to embark on the Project Bin&Go campaign, organised in collaboration with Sentosa Development Corporation (SDC). The campaign is the students' final year project.
In preparation, Ms Nurkhairah and group mates Fadzil Mohamed Hisum, 26, Samuel Tan, 24 and Syahidah Johari, 22, approached schoolmates and students from other institutions to help. They also spent a day seeking potential ambassadors among Sentosa's beach-goers, finally recruiting six "babes and hunks" to front the campaign's launch.
After the party, the four will focus on educating SDC staff and island guests on recycling.
"We want Sentosians – that's what Sentosa staff are called – to be the ultimate green ambassadors for Sentosa," said Ms Nurkhairah.
From February, the four will be placing more recycling bins around Sentosa, with posters on how to recycle. Guests will be invited to join an Instagram competition where they post photos of their green efforts. Those who have been spotted recycling will be rewarded with gift tokens.
While researching social issues that could be addressed through their final year project, the undergraduates said they learnt more could be done to increase awareness and "evoke action" when it comes to recycling among Singaporeans.
"In the long run, we hope to maintain the island's charm and promote a greener, eco-conscious society for future generations to enjoy," said Ms Nurkhairah.