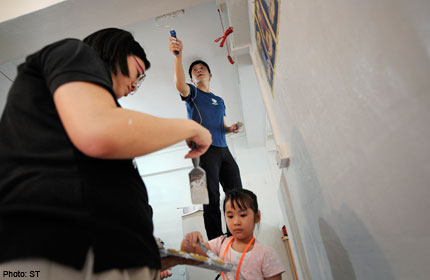 Nation-building means building a home you can be proud of, and it starts with caring for others, said Acting Minister for Manpower Tan Chuan-Jin.
In line with this, he hopes that a community event held yesterday, which aimed to foster such neighbourliness, would eventually translate into regular programmes on a monthly or weekly basis.
The One Community 2013 Project, conceived by Mr Tan, was held in Chai Chee yesterday. It is the first time 13 separate activities were held together to bring cheer to needy residents in the neighbourhood.
One of the activities was a recycling and food-donation drive organised and undertaken by secondary-school students from across Singapore. Another activity had volunteers rolling up their sleeves to help spring clean and spruce up the homes of the less mobile residents.
One such volunteer, Dr Gregory Chan, 44, went down with his family to repaint 85-year-old Madam Goh Soh Eng's flat, ahead of Chinese New Year next month.
Also there to lend a hand, and a paint brush, was Mr Tan.
Madam Goh, who lives alone, said that keeping the place clean was difficult, as she has a broken hip bone and requires a walking stick.
Dr Chan said that it was a good experience for his children and plans on taking them to similar events, as they show them a "different dimension" and "expose them to their surroundings". This makes them aware of less-fortunate people in the neighbourhood who might require help, he said.
The event drew over 1,500 participants, of which about 750 were residents of the Kembangan- Chai Chee constituency.
Mr Tan said that he was very encouraged by these figures, and highlighted the importance of "being able to relate to the place you live in and the people around you".
Source: My Paper