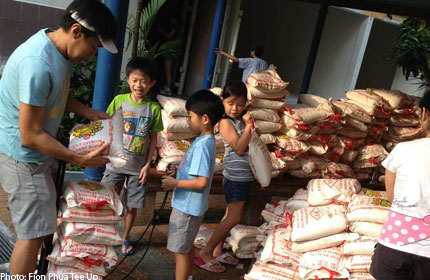 The family was down to their last pot of rice when a stranger knocked on the door and changed their lives.
Mr Tay Ha Run, 57, and his family are grateful the guardian angel visited their one-room rental flat in Block 106, Jalan Bukit Merah.
The one-woman charity, also known as Madam Fion Phua, was someone The New Paper had featured in August for her plan to exchange her branded bags for rice.
It turns out she collected and distributed more than 32 tonnes of rice, supported by an army of like-minded people who donated rice and delivered it door to door.
On Oct 14, Madam Phua, 42, brought hope into MrTay's life again when she visited his flat, where he lives with his Indonesian wife and five children, aged four to 15.
The youngest child, Mario Tay, is disabled – he cannot walk, stand or speak.
Mr Tay used to work in a coffee shop, but suffered a stroke in 2009. For a long time, he was bedridden.
His wife, who stays in Singapore on a social visit pass, could not support the family either.
The flat's utility bills climbed. The family ran out of noodles, rice and milk.
The night before Madam Phua and her volunteers arrived, Mr Tay and his family were down to their last pot of rice.
Madam Phua entered the flat, took one look at their situation and had 11 bags of rice carried up to the flat.
She said: "The house was in a mess. There was junk all over. There was standing room for only about five people. They showed me their last pot of rice."
She gave him a few hundred dollars on the spot.
Over the next two months, Madam Phua and her volunteers cleaned up Mr Tay's flat and gave the family four new cupboards, an oven, a small fridge, a television and two mattresses.
Madam Phua also paid Mr Tay's outstanding utility bills, of about $1,300.
Said Mr Tay, tears welling in his eyes: "(Madam Phua) changed my life. She gave me hope when I was about to give up. I was depressed and out of sorts. But now, I am more energised – I can walk and talk normally."
In August, TNP reported that Madam Phua had decided to exchange her branded goods, worth about $70,000, for rice.
The items included about 50 sling bags, clutches, wallets and pouches from labels such as Louis Vuitton, Chanel, Prada, Gucci and Fendi.
She gave her branded bags to those who bid for them with the highest number of rice bags.
Madam Phua collected the rice and gave them out simultaneously. She did not collect all the rice at one go and then give the bags of rice out.
Madam Phua collected a whopping 6,435 bags of rice. Each bag of rice weighed 5kg, bringing the total weight of rice to over 32 tonnes.
Army of volunteers
Helped by an army of about 500 volunteers, Madam Phua went door to door to give the bags of rice to needy families.
Their rice deliveries spanned five Sundays, from Sept 23 to Oct 21.
They delivered rice to HDB blocks all across the island, including Yishun, Jalan Kayu, North Bridge Road, Jalan Bukit Merah, Marsiling, Woodlands and Chai Chee.
First, Madam Phua and her volunteers covered one-room flats. Next, they moved on to two-room flats.
Madam Phua said that the one-room flats mainly had old folks who lived alone, while the two-room flats mainly had needy families with young children.
"I knocked on more than 7,000 doors and gave out about 6,500 bags of rice (including those that she bought)," she said.
The rice was given only to people who needed it and could use it.
For instance, if a family did not use gas to cook at home, Madam Phua saw no point in giving the rice to them.
Bigger families with more children received more bags of rice.
"This rice delivery was also an opportunity to find out where the needy families were.
"We noted down where the needy families lived and brought food hampers for them during our next charity drive," she said.
Madam Phua said that there were still people waiting for rice after they had run out of it. She went to the nearest grocery stores to buy about 70 additional bags of rice.
Madam Phua held another two charity drives on Dec 16 and Dec 23.
This time, they gave 550 bags of food hampers, each weighing 100kg and filled with necessities.
Madam Phua gave the food hampers to needy families that she and her team had taken note of during their rice deliveries.
Madam Phua keeps going simply because she knows that people here need help.
"I listen to the needy families' stories; their stories tell me not to give up," said Madam Phua.
"One bag of food cannot help the needy solve all their problems. But this gives them hope to go on with life," said Madam Phua.
To her surprise, Mr Tay came by to help her with her food hamper drive last month.
He kept an eye on the food hampers at the food distribution point.
When Madam Phua got exhausted after "hours of non-stop packing", Mr Tay bought her a McDonald's meal and a cup of coffee.
"My beneficiary became my volunteer," said Madam Phua, with a smile.
"One bag of food cannot help the needy solve all their problems. But this gives them hope to go on with life."
MS CINDY Tan, 32, and her husband Edmund Ng, 33, donated 15,000 eggs to two food hamper drives on Dec 16 and 23.
The couple, who have been volunteering with Madam Fion Phua for four years, also donated about 300 bags of rice to Madam Phua's "bags-for-rice" effort.
Ms Tan and Mr Ng met Madam Phua through a friend's friend.
Said Ms Tan: "We always wanted to volunteer. But it was tough to go about it. We went to orphanages and old folks' homes, but seeing so many sad, lonely people was heartrending. Then (Madam Phua) came along and we stuck by her."
Ms Tan and Mr Ng went all out for Madam Phua's rice deliveries.
Mr Ng, who is the director of Seng Soon Huat Construction, drove his lorry filled with rice to various HDB blocks.
For all five Sundays, the couple went knocking door to door together with Madam Phua and other volunteers.
Their son, Ryan Ng, seven, also followed them on the charity drives.
"He helped to carry the rice. He also gave some of his toys to the needy children,"said Ms Tan. Ms Tan said that her most memorable moment volunteering was when she saw two or three children playing by themselves in the corridor of their North Bridge Road flat.
"One child had poop stuck in his pants. We didn't know where their parents were. The house was in a mess. The dishes were mouldy. There was no water supply and no food.
"We tidied up the house and bought them food and drinks. We cleaned up the children and sent their dirty clothes to the laundry," said Ms Tan.
Said Mr Ng: "The true sense of gratitude from the needy makes us want to continue doing this for them."
Another one who was inspired by Madam Phua was Ms Brigid Loh, 39,director of New Eastern, a local rice supplier.
Ms Loh donated 1,000 bags of rice free of charge to Madam Phua's one-woman charity drive. On top of that, Ms Loh and about 20 staff members from New Eastern took part in one of Madam Phua's five rice deliveries.
"It's easy to just write a cheque for the needy. But (Madam Phua) doesn't accept cash. We either do charity in service or in kind," she said.
Source: The New Paper