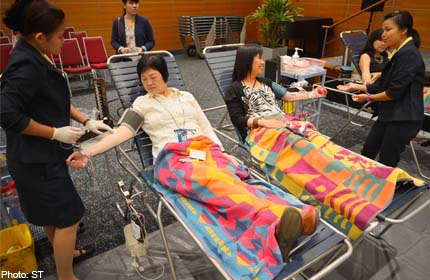 The SPH Red Apple Day, a biannual blood donation drive organised by Singapore Press Holdings (SPH), has collected 162 units of blood from about 240 donors at the SPH News Centre auditorium today.
The first hour of the blood donation drive (11am to 12 noon) was reserved exclusively for SPH staff. It was then opened to the public from 12 noon to 5pm.
The SPH Red Apple Day was first organised in partnership with the Singapore Red Cross as an annual event in 2001.
Since 2011, SPH has made the blood donation drive a biannual event in response to a dip in blood donations during festive periods. The previous SPH Red Apple Day held on 17 July 2012 collected 165 units of blood from 277 donors.
Mr Alan Chan, Chief Executive Officer of SPH and a regular blood donor himself, said: "SPH decided to organise the SPH Red Apple Day biannually from 2011 to help boost the Bloodbank during the festive season, when there is usually a drop in the number of donors.
We are glad that our efforts with the Singapore Red Cross have always been met with good response by donors who generously donate their blood to help others."
The SPH Red Apple Day is supported by SPH MediaBoxOffice, AsiaOne, SPH UnionWorks´ HOT FM91.3, Kiss92 and UFM 100.3, with sponsors Benelux, Cerebos, Gardenia, Marigold and Nestle.
Source: AsiaOne