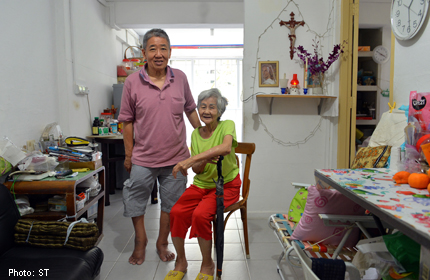 The Bright Homes Programme for low-income seniors has received a $200,000 sponsorship boost from the NTUC FairPrice Foundation.
The money will benefit about 1,200 seniors – double the number of beneficiaries from last year. The seniors mostly live alone in public rental flats and have no next of kin.
The programme was launched in 2006 by the Central Singapore Community Development Council (CDC).
Half of the $200,000 donated by the foundation will go towards offsetting the CDC operations budget this year and next year.
The new moniker, The FairPrice Foundation-Central Singapore Bright Homes Programme, was announced on Monday at The Arts House during an appreciation lunch for the CDC's corporate partners.
To prevent social isolation, volunteers engage the elderly on a monthly basis. They also organise block parties and spring- cleaning sessions.
One beneficiary is Mr Yeo Chan Tung, 65, who used to make coffee at a coffee shop for a living and has no immediate family.
Since he retired last year, the bachelor said he spends most of his time doing housework, watching television and "daydreaming".
But he said he feels less lonely now, after making friends with volunteers who came to his flat five months after his retirement. They, in turn, linked him up with other neighbours.
"Something inexpensive like a short chat can keep things lively and upbeat for us. I really enjoy the programmes volunteers help us organise and the interaction with other seniors from different walks of life," said Mr Yeo.
Mr Eric Ang, director for the NTUC FairPrice Foundation, said the foundation is pleased to support the programme and that it is privileged to be able to do good and contribute to the community.
Some $40 million has been disbursed through the foundation since it was set up in 2008.
Central Singapore District Mayor Sam Tan thanked the foundation for its generous contribution and for making a difference to the lives of low-income seniors in the district.
Source: The Straits Times