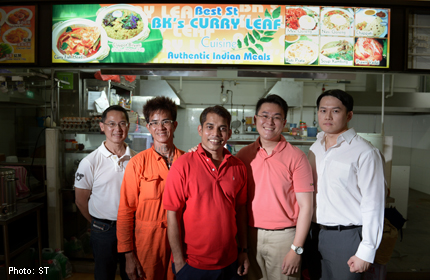 When he was released from prison in May last year, Mr Balamurukan Kuppusamy did not know what to do with his life.
But less than half a year later, the 41-year-old became an entrepreneur and is now the proud owner of an Indian food stall.
"I've started a new thing, a new beginning in my life," he said, speaking to The Sunday Times at his stall in a Bukit Batok Crescent coffee shop.
He credits the Industrial and Services Cooperative Society (Iscos) and two other social enterprises – SE Hub and Princeton Mind – for this new lease of life. Princeton Mind provided training and found funding for him.
The married father of an eight-year-old son has been in and out of jail three times for various offences, spending about a decade in total behind bars.
After he was finally released, he spent time volunteering with Iscos, a social organisation that helps former offenders reintegrate successfully into society and become productive members of the community.
Statistics released by the Singapore Prison Service last Wednesday showed that not only are former offenders securing jobs post-release, but more of them have also secured jobs prior to their release from prison in recent years.
Last year, 1,708 inmates found jobs, up from 1,586 in 2011 and 1,172 in 2010.
It was Iscos that introduced Mr Balamurukan to Princeton Mind, started in June 2011 by Dr Leong Kaiwen, a former sexual abuse victim and school dropout who overcame the odds to become an assistant professor of economics at Nanyang Technological University.
Dr Leong, 31, found there was a dearth of mentors who could guide and train those interested in becoming entrepreneurs, so he developed training courses with the help of his friend Tan Wenyou, 27, who is from the venture capital industry.
Princeton Mind's focus is on helping disadvantaged groups, and it caters to people from low-income families, former offenders, the disabled and youth-at-risk.
Mr Balamurukan was referred by Iscos to the first run of the course in August last year. About 20 people have been trained over two runs, and four are now entrepreneurs.
He paid $50 for the two-session course, which was heavily subsidised by Iscos.
During the course, a facilitator shared his experience of running a food stall, which sparked Mr Balamurukan's memory of how he had enjoyed cooking during national service.
When the course ended, he thought he would give entrepreneurship a shot. Mentors from Princeton Mind showed him where to source materials, and put him in touch with real estate agents to look for a stall location.
Then came the issue of money. "My savings were zero. A lot of former offenders turn to loan sharks, but I didn't want to do that," he said.
Princeton Mind refined his business plan and connected him with SE Hub.
SE Hub manages funds from the Singapore Totalisator Board and has a micro-credit business scheme, extending loans for starting businesses to individuals who would usually be turned away by a bank.
Mr Chan Ying Lock, chief operating officer of SE Hub, told The Sunday Times that applicants must have a viable business plan before they can get a loan. "The business must be sustainable before we invest in it."
He confirmed that a loan of $25,000 was extended to Mr Balamurukan, who opened his food stall last October. Mr Balamurukan returns SE Hub about $200 every fortnight and will do so for the next eight years.
"I'm really happy to have a business of my own," he said, adding that his prata and claypot briyani are hits with the morning and lunchtime crowds. He runs the stall, which opens in the morning and closes by 5pm, with the help of his wife and mother.
He has plans to open a Western food stall next.
Besides helping people like Mr Balamurukan get their ideas off the ground, Princeton Mind also helps entrepreneurs from disadvantaged groups grow their businesses.
Mr Jonathan Tan, 48, was referred to the social enterprise via halfway house The Helping Hand. The former drug abuser used to help tend the garden there.
Now a certified botanist and landscape designer, he started his own landscaping company in May last year.
While business was decent, his company, The Helping Hand Landscape Services, was a small outfit run by just four people.
"We had no future plans, although I was constantly improving my skills," said Mr Tan, who is single.
He enrolled in the second run of Princeton Mind's course in December last year. There, he learnt how he could expand his business to employ more former offenders and he is working towards that goal.
"I want to give former offenders a fresh start by training them in landscaping, so that they can sustain their families in time to come," he said.
Source: The Straits Times