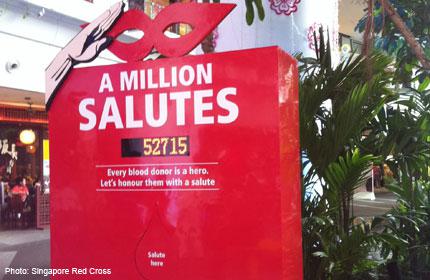 Blood donors are receiving "salutes" from members of the public who can now thank them for their life-saving contributions by pressing a button on two public "counters".
The bright red machines have been installed at busy locations and will clock up the number of salutes in an effort to raise awareness about the importance of blood donations and to encourage new donors to sign up.
Singapore Red Cross hopes that by June, a million people will have shown their support by pressing the buttons.
Secretary-general Benjamin William said it wanted to show donors "that they are not alone".
He added: "They have a nation supporting and cheering them on."
About 400 units of blood a day are needed for transfusions here and that figure is expected to increase in the coming years.
Patients range from accident survivors to those suffering from leukaemia or severe anaemia.
Mr Sulaiman Suradi, 21, who was diagnosed with leukaemia at the age of 10, said frequent transfusions helped him survive treatment.
He added: "Blood donors turn lives around, not just for patients, but for their families and the community at large."
One donor, Mrs Lalitha Pillay, 52, said: "The act of donating blood is a celebration of good health. When I donate, I expect nothing in return although the Red Cross gesture is certainly appreciated."
The counters were installed on Wednesday at Star Vista mall and Republic Polytechnic but they will be moved to other popular areas over the coming months.
There is also an online counter at facebook.com/sgredcross.
Source: The Straits Times