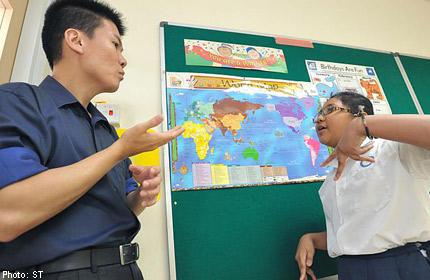 It took him some time to come up with a way to convey the word "photosynthesis" in sign language.
In the end, Mr Zach Tay used the sign for the letter "p" and mouthed the word to represent the process where plants absorb sunlight to make food.
He was helping out during a science lesson in a class where he was an interpreter for deaf students who understood sign language and could read lips.
Mr Tay, 36, is one of four full-time, sign-language interpreters in Singapore.
People who are deaf can engage an interpreter when they need help with communication, for example, at a medical check-up.
"It's a very enriching and fulfilling job as I bridge the communication gap between the deaf and hearing people," said Mr Tay, who is not hearing-impaired.
He added that the job requires patience and can be challenging when the deaf person does not use sign language.
"Not all deaf people know sign language so they gesture instead," he said.
There are an estimated 500,000 people with hearing impairments in Singapore. Although this can affect speech development, those who are trained from young can be taught to speak.
Mr Tay was first exposed to sign language during his national service (NS).
He had signed up for courses run by a Residents' Committee where he was a volunteer. His friends were interested in the lessons and he tagged along.
That sparked off his interest in sign language and he started volunteering at the Singapore Association for the Deaf.
Mr Tay said: "I was a scout in secondary school and that cultivated a sense of volunteerism in me. We were taught to serve others and help those who are less fortunate."
He added that he is fascinated with sign language because it is "very unique" and he even uses it when he is with friends.
"For example, among my hearing friends who know sign language, when we are at a noisy hawker centre, we can use sign language to communicate when we're standing apart, instead of having to shout across or make calls."
After completing his NS, he joined the association as a full-time staff. He worked as a clerk and later became a voluntary interpreter. He then worked as an educational interpreter in schools with deaf students, before becoming a sign-language interpreter based at the association in 2011.
One has to be certified by the association and an external vendor in order to become an interpreter.
The training, which takes about one and a half years, includes learning sign language in English, sign linguistics and visual gesture communication.
There are four full-time interpreters and 20 volunteers helping with interpretation.
Every week, Mr Tay has 15 assignments on average in places ranging from courtrooms to medical clinics and classrooms.
In addition, he has training sessions every month at the association to keep himself up to date with the language, which is constantly evolving.
For example, when a new building opens, some members of the deaf community will come up with a new sign for that. The interpreters will pick up these new signs when they interact with the deaf.
Mr Tay said more awareness is needed so that the public can better understand those who are deaf. He said: "Sometimes, people lose patience easily because it takes time to communicate with the deaf." This can be achieved through writing, illustrations or pictures and simplified gestures.
"I hope society can be more inclusive towards the disabled, and I see myself as a tool in terms of interpreting for that purpose."
Source: The Straits Times