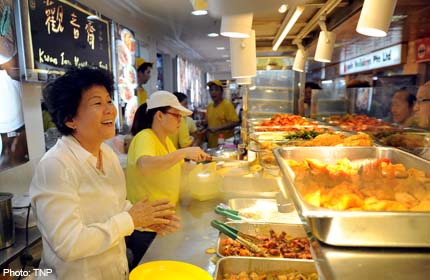 She gave away all her winnings in 2011, and now she has given again.
In November 2011, Ms Choo Hong Eng was involved in a dispute with Marina Bay Sands (MBS) over her winnings from a slot machine.
Eventually, MBS gave the 59-year-old her winnings of about $416,000.
She subsequently donated the winnings, making newspaper headlines and earning the nickname "Jackpot Auntie" as a result.
Yesterday, the owner of Kwan Inn Vegetarian Food at Geylang East opened her second stall at Food Summons foodcourt at People's Park Centre.
Profits from the stall will be donated to the MacPherson Community Development and Welfare Fund, which helps residents living in MacPherson.
A resident of MacPherson, Ms Choo says that she wishes to help the poor and elderly in her estate through the stall.
She will do so by donating the profits every month after deducting her costs.
The stall, which is run by five workers, did not cost Ms Choo a single cent to set up. All renovation works had been paid for her by Food Summons, which also opened yesterday.
"It is our duty to look after the elderly. We will grow old one day. Who will take care of us if we do not set a good example for the young?" she said.
To celebrate the opening of her stall, free laksa was served to anyone who visited the stall from 9am to 2pm yesterday.
Friends of Ms Choo and strangers, who had learned about the news through word of mouth, flocked to the stall in the morning to sample her free laksa.
Demand was so great that by noon, the stall had served over 2,000 bowls. Short of ingredients, Ms Choo had to serve other vegetarian dishes instead.
People streaming in
Even after 2pm, people were still streaming in, claiming that they thought the food was free. Ms Choo simply gave the food to them.
Ms Tin Pei Ling, 29, MP for Marine Parade GRC, also frequented the stall to "give moral support" to Ms Choo.
"For Ms Choo, it is not about earning money. She felt that this was something that she needed to do. It demonstrates her sincerity and selflessness," Ms Tin said.
To help her cope with the expected crowd, more than 40 friends and volunteers were at hand to help out serving food to customers.
One volunteer, Madam Chua, 67, who has helped Ms Choo on several occasions, said: "Today's work was tiring, but seeing the happy faces of the elderly as they ate brought a smile to my face."
Ms Choo plans to let her staff run the stalls and plans to make one or two daily trips to them to ensure standards are maintained.
"As long I am clear in communicating with my staff, they will be able to do their job well and I do not have to worry," she said.
Source: The New Paper