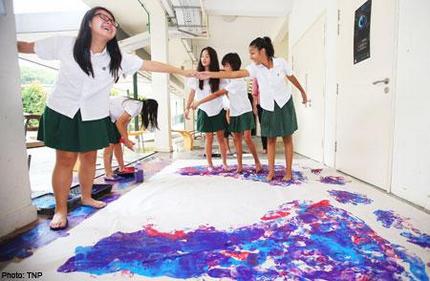 When English teacher Martin Walsh left home for work last Tuesday morning, he stepped out with no shoes on.
Barefoot, he walked and took the bus to St Joseph's Institution International, where approximately 150 students did the same by taking off their shoes in class.
It was a student-led initiative to go One Day Without Shoes.
The main organisers, Yu Kai Yan, 18, and Dhanesh Thiru, 17, had come across the global movement, initiated by American shoe brand Toms, from discussion with their friends from other junior colleges.
It is an event to bring awareness on an international scale, by encouraging companies and schools around the world to place themselves in the shoes of children who have none.
Every year, a specific date is marked out and participants around the world are encouraged to send in videos and photos of their participation in the event, which started in 2007.
Stephanie Yeap, 17, a student from Grade 11, said: "I feel that we're privileged enough to be able to get an education here, and we should do our part to raise awareness.
"There are people half our age who can't afford shoes and I realise that we take a lot for granted. People generally forget how lucky they really are."
The idea to get involved in the international movement was brought up by a group of student councillors last year, one of whom was Kai Yan. But it did not materialise as the idea did not catch on.
They decided to push for it again this year and succeeded. "Going barefoot for a day, we want to give them something to think about," said Kai Yan, who is the service secretary for the student council.
"For most people, taking off your shoes for a day is not difficult, so it feels like one of those initiatives that can cause a big impact relative to the action that you need to take."
And it was a simple affair that was voluntary for students and teachers.
Participants removed their shoes in the morning, and they were then taken down to the Sports Hall for safe-keeping.
Lessons carried on as usual, with pockets of students and teachers walking around barefoot, in classrooms, in the canteen and along the corridors.
The principal, Mr Bradley Roberts, was a participant. "I'm from Africa so I'm used to walking around barefoot. But I've never been in a school where students and teachers are walking around barefoot," he said.
"The majority of our children come from families where they have a lot, and we believe that to these children where much is given, it is expected that they give back to the community."
During lunch, the Sports Hall was buzzing with activities, which included students trying out yoga and Xtend Barre, a pilates and ballet fusion workout.
Feet painting
After school, students also took part in a feet-painting activity to create a mural.
Students who were scheduled for PE and lessons in the science laboratories were required to keep their shoes on for safety reasons. They were not allowed to come to school without their shoes.
While the student organisers had to attend lessons during the day, Mr Walsh, 49, moved from place to place to ensure the day ran smoothly.
In a shirt drenched with sweat, he juggled his duties as a teacher and the event coordinator, brisk-walking from classrooms to the Sports Hall to the canteen to spread the word about the activities being held.
The organisers were also surprised by the response to the event.
"I think it went very well today, considering that it's being done for the first time," Kai Yan said.
Asked why he had not pushed for students to go barefoot during PE, he said: "As an event that was starting up, we wanted minimum injury.
"But if PE can be done without shoes next time, we will go ahead with it."
And like Mr Walsh, Stephanie is willing to go barefoot the whole day if she could.
"If you feel for a cause, you should go all out for it. I feel that it's a pressing issue and Singapore is a relatively safe place so I don't see why not," she said.
There will also be a shoe donation drive at the school from today until Friday.
The shoes will go to Lasallian schools in Thailand, Myanmar and Indonesia. Students will take the shoes with them when they make trips there.
Source: The New Paper |