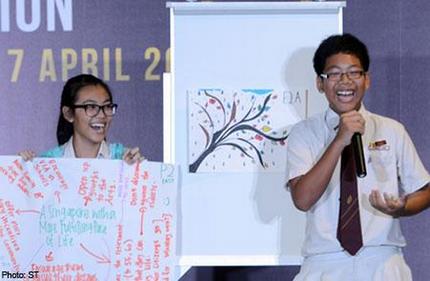 Students will be encouraged to continue doing volunteer work long after they leave school under an initiative launched last Wednesday.
Acting Minister for Culture, Community and Youth Lawrence Wong announced a new partnership to address the dip in volunteering, which often occurs when young people leave school and begin to become more occupied with their jobs and family lives.
The Ministry of Culture, Community and Youth and the Ministry of Education will team up with the National Youth Council to help connect participating schools with youth sector organisations to come up with initiatives to engage students in the community.
Youth organisations will also share their experiences and mentor the students.
Speaking at the annual National Secondary School Student Leaders Conference, held at Republic Polytechnic, Mr Wong said: "The idea behind this is to build a stronger culture of youth volunteerism, character and leadership development in schools.
"By getting the schools integrated with the community and with youth organisations earlier… we hope that the students will then have that association with the community and youth organisations and they will continue their volunteerism beyond school."
Education Minister Heng Swee Keat, the guest of honour at the conference, said: "What I hope is that our students do not just do community work and serve the community only when they are students, but even after they graduate.
"They can continue to play an active role in building a more gracious and more caring Singapore."
Statistics from the National Youth Council from 2010 showed that 72 per cent of 15- to 19-year-olds were involved in at least one community group, compared to only 44 per cent of people aged 25 to 29.
The partnership will tap the new $100 million National Youth Fund and schools can apply with the National Youth Council to be part of this pilot programme.
Mr Martin Tan, 35, co-founder of non-profit organisation Halogen Foundation Singapore, which trains young people for leadership, said: "There is a lot going on for young people – their first job, climbing the corporate ladder, having more freedom and a social life. But once we get them to have a sense of empathy for the society, volunteerism will come."
Mrs Lee Ai Hoon, 34, head of department for humanities at Riverside Secondary School, said: "This will sustain the students' engagement with the community as they are likely to continue doing what they are interested in."
Source: The Straits Times