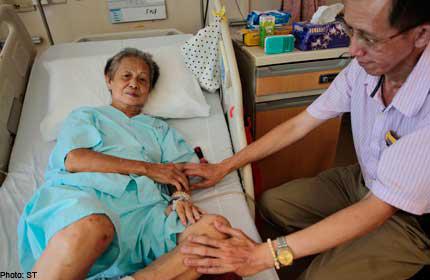 For the past decade, Madam Lim Lai Heng, 76, has been in and out of hospital because of diabetes, which she has had for more than 25 years.
Her 48-year-old son, Mr Han Meng Siew, who quit his job last month as a kitchen helper in a restaurant, has had to shoulder the financial burden.
But it has been slightly easier for the family since 2009, when the Tan Tock Seng Hospital (TTSH) Community Charity Fund started covering some of Madam Lim's bills for insulin syringes, test strips and a blood glucose monitoring meter.
"It was financially difficult for us over the years. Without the aid, it would have been yet another burden to bear," said Mr Han, whose father died when he was 10.
His mother is one of at least 4,000 patients here who benefit each year from charity funds run by public hospitals such as TTSH.
And the number of needy patients getting help has been increasing by as much as 25 per cent over the last three years. Some hospitals have also been giving out 10 per cent to 15 per cent more in funds.
"The ageing population means we see a rise in the number of cases requiring charity support. More than half of the patients we help are elderly folk, often with multiple and chronic conditions," said TTSH Community Charity Fund executive director Eunice Toh.
The fund disburses about $2 million annually.
Last year, it helped about 2,500 patient cases, up from about 2,000 in 2011.
Sometimes, modern technology adds to a patient's costs.
"Often, advanced treatment options can be expensive, prolonged and beyond what the family may be able to sustain without additional financial assistance," said Ms Mavis Teo, acting head of the Medical Social Work department at KK Women's and Children's Hospital (KKH).
The KKH Health Endowment Fund benefited 547 patients between 2011 and last year, up from 389 from between 2009 and 2010.
The different hospital charity funds have varying aims, from helping to pay for medical items such as dressings and wheelchairs to subsidising outstanding hospital bills.
Some also support education and research programmes in addition to helping the needy.
The amount of funding a patient receives can range from $3 for transport fees to $20,000 or more for breathing machines.
"The aid is dependent on the need of the patient rather than a fixed monetary value," said Ms Olivia Khoo, principal medical social worker at Singapore General Hospital (SGH), which helps about 700 patients every year through its SGH Needy Patients Fund. It has seen a 5 per cent to 10 per cent increase in beneficiaries every year.
"A lot of the patients are already on schemes such as Medifund but they have extra expenses on top of that. Our fund also tides them over until they get help from other societies and schemes," she said.
Patients are generally referred by staff to medical social workers in the hospitals, who will see if they qualify for help from schemes like MediShield, Medisave and Medifund before tapping the needy patient funds.
To replenish their coffers, hospitals also see the need to step up fund-raising efforts, through donations from organisations, the public and new charity events and programmes.
Said Ms Audrey Lau, director of corporate development at KKH: "Raising funds for needy patients has become, increasingly, more challenging.
"However, as a public health-care institution, we aim to help our patients as best as we can."
Source: The Straits Times