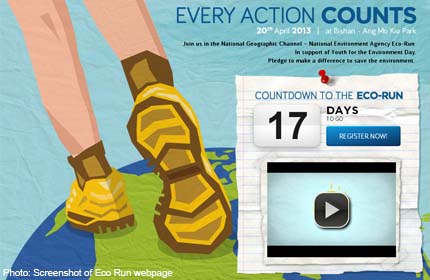 In support of the Youth for the Environment Day in April, National Geographic Channel (NGC) has partnered with the National Environment Agency (NEA) to launch their first ever NGC-NEA Eco-Run.
The run aims to promote recycling efforts and awareness of environmental sustainability through youths. It will take place on April 20, 2013 at the Bishan-Ang Mo Kio Park.
The press release states that the inaugural NGC-NEA Eco-Run is non-competitive. Youths, aged 13 to 25, can opt to run either 2.5km or 5km for the environment.
To promote recycling efforts, participants can enlist support from family and friends to pledge the collection of recyclable items online.
Awards will be given out to individuals and schools for the most recyclables and pledges collected. The event is also open to the public who can visit various activity booths at the Eco-Carnival and enjoy performances by the winners of the Eco Music Challenge.
Eco-Run Details
Date: Saturday, 20th April 2013
Time: 8.30am – 12 noon
Venue: Bishan – Ang Mo Kio Park – River Plains Grand Lawn 1
Registration For Participants: 7.30 am – 8.30 am
Registration Fee: None, but interested participants must register their application online via this link here, and pledge the collection of recyclables.
Application closes 12 April 2013