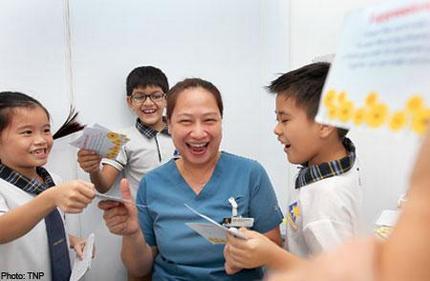 She got a pleasant surprise last Tuesday afternoon when a group of nine-year-old schoolchildren showed up at the Khoo Teck Puat Hospital (KTPH) accident and emergency department, where she works.
They came bearing personally written and decorated cards, which were presented to her and other hospital workers to show their appreciation for what they do for the community.
Senior nurse Mary Grace Dalisay, who is in her 40s, said the Northview Primary School pupils really made her day.
"I was really happy and touched by their innocence and this gesture.
"They're so young, but they already appreciate us hospital workers," she said.
The pupils' guileless laughter and bright smiles brought joy to the hospital workers, who were kept in the dark about Card-A-Kindness, a joint initiative between Northview Primary and the Singapore Kindness Movement (SKM).
This was so that the pupils could surprise the hospital workers with the cards.
Card-A-Kindness is one of Northview Primary's Values in Action programmes, part of their character and citizenship education curriculum. It is the first time that an initiative of this kind was held at a healthcare institution.
The 20 Primary 3 pupils also cheerily visited workers in other departments of the hospital, such as the wards, the Intensive Care Unit and the hospital kitchen.
Senior nurse Noribah Abdul Rahman, 44, said: "It's so nice to have these young kids in the hospital and to receive their lovely cards."
Earlier this month, The Straits Times reported that the number of incidents of abuse of healthcare workers in hospitals is on the rise. These workers are verbally, even physically abused, by disgruntled or frustrated patients.
Verbally abused
Ms Dalisay, who has been a nurse for a decade, said she has encountered verbal abuse from patients about four times this year.
She related a case which happened about two months ago, when a patient waiting in the A&E department started shouting Hokkien vulgarities at her when he couldn't get a bed.
"Sometimes, patients demand they be treated well, but we already do the best we can," she said.
So, this initiative, which Northview Primary and SKM started planning last year, comes at an appropriate time.
Mr Edwin Lim, 34, head of department for character and citizenship education at Northview Primary, said this visit complements the values taught in school.
"Having such excursions will help pupils internalise what we teach them in school, so that they don't just know about how expressing thanks and being kind is important, but also really learn from the experience," he said.
After school last Tuesday afternoon, another 60 Primary 3 and 5 pupils from the school also went to public places like Chong Pang, Orchard and even the Central Fire Station to give out appreciation cards.
In the spirit of passing kindness on, students gave out one personally decorated and written card and an empty one for the recipient to fill out and pass on to anyone they chose. At KTPH, the workers gave the second cards back to the pupils.
A different group of Northview Primary pupils will be heading for KTPH next Tuesday, to give cards to workers from other departments.
Ms Lorraine Desker, mother of one of the students who visited KTPH and a parent volunteer on this trip, is extremely proud of her son and appreciative of the programme.
"He was so excited for today. I'm very glad that he had the opportunity to participate and I hope that other schools adopt similar programmes as well," the administrative assistant, who is in her 40s, said.
Northview Primary pupils Nur Fae'iqa Ruqayyah Abdullah, nine, said she was very happy to give the ards to the hospital workers, who have inspired her.
She said: "When I grow up, I want to be a nurse so I can help other people when they are sick or hurt."
Source: The New Paper