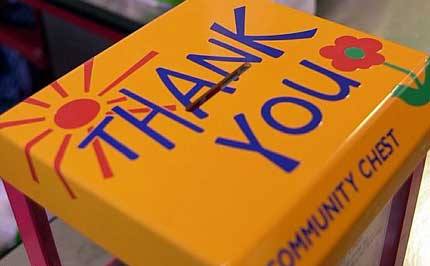 Community Chest has been in the forefront of serving those in need since it was established in 1983. Community Chest started out raising $5.2 million in Financial Year (FY) 1984 to help 18 voluntary welfare organisations (VWOs) to support 23,000 beneficiaries. In FY2013, Community Chest will be funding 228 critical social service programmes offered by 83 VWOs, which require a total of $85.9 million of community funding. Over 300,000 beneficiaries, such as children, youths-at-risk, persons with disabilities, families in need and the frail and lonely elderly, will be helped this year.
Transforming the lives of children and youths
One of the core areas served by Community Chest-funded programmes is in nurturing children and youths to succeed. Community Chest first supported six VWOs running mainly residential homes for neglected children some 30 years ago. Today, the focus is in providing more upstream and progressive measures like preventive and developmental programmes for youths-at-risk to complement remedial intervention.
The Experiential Learning & Mentoring Programme offered by Youth Guidance Outreach Services (YGOS) is one such programme that aims to help youths from low-income families keep away from negative influence by meaningfully engaging them. Newly funded by Community Chest in FY2013, this programme reaches out to disengaged youths with the progressive use of sports like Tchoukball and music to help them to develop a greater sense of belonging. The efforts are enhanced with integrated community support through collaboration with partners like Town Councils, Community Development Councils, schools and grassroots organisations in organising carnivals, arts and sports activities within the community.
Mr Wilson Tan, Deputy Executive Director of YGOS, said, "The funding provided by Community Chest will enable YGOS to help more youths. The success of the Experiential Learning and Mentoring Programme is in leveraging youth activities to forge meaningful relationships with our youth workers. This helped to turn around the lives of about 160 youths in our programmes and helped them to discover their own talents and value."
Empowering persons with disabilities to lead independent lives
Another area that Community Chest has been supporting strongly over the past three decades is programmes and services for persons with disabilities. From funding shelters for persons with disabilities 30 years ago, Community Chest-funded services today focus on integrating them into the community and enabling them to become contributing members of society. One programme that empowers them to lead independent lives is the Job Placement and Job Support (JPJS) programme, which promotes employment and retention of persons with disabilities. The three JPJS programmes funded by Community Chest in this FY helped over 630 clients gain employment in more than 100 companies across 40 industries from FY2010 to FY2012.
Hi-Job! is one JPJS programme newly supported by Community Chest this year. It provides employment-related services for persons with intellectual disability, including job matching, job redesign, job coaching and other types of job support required to ensure their job sustainability. Besides working closely with special education schools to ease the students' transition from school to employment, Hi-Job! also works with employers to explore upgrading and career advancement for their clients. With Hi-Job!'s comprehensive approach, over 70 per cent of their clients were able to stay in mainstream employment for at least six months.
Evolving fund-raising methods and strong support from long-time partners
To meet growing social needs, Community Chest has constantly been coming up with new ways to raise funds throughout its thirty-year journey. By tapping more on technology in recent years, Community Chest has increased its outreach, made donating easier, and kept donors informed and engaged. The partnerships with SingPost and NETS have added avenues for the public to donate through SAM and iNETS kiosks and Community Chest's 'My Charity' webpage made it easier for individuals to canvass support for donations towards their selected causes. Last year, donors were given the option to designate their donations online to a VWO of their choice to give greater flexibility. Through such efforts, Community Chest has seen a jump in donations through electronic mediums, with website donations growing from over $180,000 in FY2007 to $820,000 in FY2012.
Strong support from corporate partners is also critical for Community Chest to help the less fortunate. SingTel, for instance, is one of seven long-time partners that have collectively raised over $85 million since they first partnered Community Chest in the 1980s. In addition to supporting the monthly workplace giving programme SHARE from FY1984, SingTel launched the SingTel Touching Lives Fund in 2002 to help children and youths with special needs. Its signature Fold-a-Heart campaign for the fund has been extended beyond print advertisements to fold origami hearts. SingTel created an electronic version in 2010 to reach out to more people and made it even easier for the public to participate in the activity.
Housing and Development Board is another strong supporter of the SHARE programme since it came on board in FY1984. It also organised charity breakfast drives, charity walks, concerts and movie events to raise funds for Community Chest. Another long-time corporate partner of Community Chest is NTUC FairPrice, which introduced the 'Heartstring Buys' in 1988 that donated a portion of the proceeds from selected items purchased by the public to Community Chest.