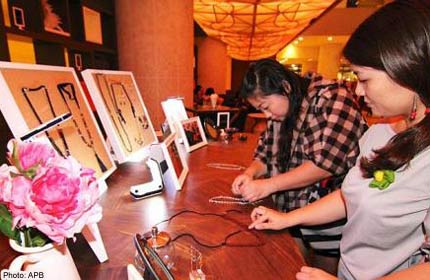 As social enterprise which helps marginalised women make a living through handmade jewellery was officially launched yesterday with the support of the Arthur Guinness Fund.-
Called Design Up Asia (DUA), it hopes to improve the lives of women such as single mothers and ex-offenders by teaching them to make jewellery, and then selling the products in stores and online.
The Arthur Guinness Fund, set up here last year to support such women, has contributed $30,000 to the enterprise. The fund is named after the founder of the Guinness brewery.
"I think it's important to live somewhere and also serve the community," said DUA co-founder Anisa Johnny at the Pan Pacific Singapore, where the launch was held.
The fashion lecturer at the Raffles Institute of Higher Learning met her two partners, Ms Kim Ong, a 53-year-old writer, and engineer Yi Chuen, 26, at an Arthur Guinness Fund event last year.
Ideas for social change were exchanged there.
Through volunteers, DUA trains women to make jewellery at least once a week. Ms Johnny, 35, creates the designs and oversees the training.
Classes begin with the most basic techniques before moving on to skills such as beading designs and shapes.
"With this course, after I do housework and eat, I have new ways to spend my time," said Ms Elaine Goh, in her 30s and a single mother of two girls.
She used to work at a supermarket, where she said the long hours did not give her the time she needed to care for her children.
"To find a job that has short hours that also allows you to take care of your children is very difficult," she said.
The DUA programme also helps women gain confidence and build stronger bonds with their children at home.
Ms Jessi Ng, a 38-year-old single mother of three, has also learnt to make jewellery, even while holding another part-time job in an office.
"I've never considered jewellery-making before because I thought I was clumsy. But on second thought I decided to give myself a new direction."
Ms Ng said her children also help her create some of the designs. "You can show them the truth – we have to go through hard work to succeed and make a living," she said.
Source: The Straits Times