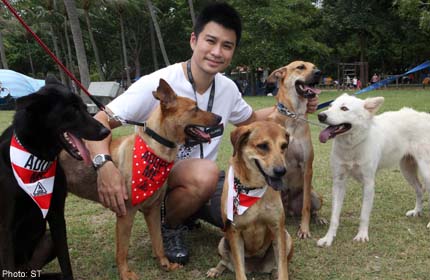 For a man who grew up scared of dogs, Dr Siew Tuck Wah has undergone an astonishing transformation.
Until about seven years ago, he was, in his own words, "bo chup" about animals – Hokkien for "not bothered".
Today, the 34-year-old has three pet dogs, saves countless stray mongrels from being culled, and would keep doing it for the rest of his life if he had to.
He has become something of a crusader on the issue. While he started out at odds with the authorities, he now tries to convince them to re-home the island's population of 8,000 strays instead of culling them unnecessarily.
The doctor at medical aesthetics chain The Sloane Clinic heads dog welfare group Save Our Street Dogs (SOSD), and was part of the expert panel whose extensive measures to improve animal welfare were accepted by the Ministry of National Development last month.
So what's behind this metamorphosis that his friends call "amazing"? He says, laughing: "I got my first dog in 2006 only because my flatmate wanted one. My parents used to tell me: 'Dogs will bite you'. I grew up always scared of them."
That first dog, a Japanese spitz from a puppy mill, was soon joined by a corgi. Then, in 2010, he brought home a white mongrel he named Yoghurt. He may not have known it then, but this move would change his life forever.
Yoghurt was followed a year later by Cinnamon, a mongrel he rescued from being beaten by workers at a construction site.
"She had nowhere to go. It was then that I realised the plight of these street dogs. They are living beings like us. They can feel love, pain, suffering, everything."
Yet more events were to quickly shape what Dr Siew calls "his destiny". In December 2011, a jogger in Punggol was bitten by stray dogs.
The Agri-Food and Veterinary Authority (AVA) stepped up its efforts to trap and cull strays there for public safety.
"It was an awakening for me," said Dr Siew. "I already loved dogs, but I didn't think I could do anything about it."
Except he did. With friends from SOSD, he went to Punggol with nothing on his mind but to save as many dogs as he could. Over a month, they saved 10 by hitting the streets before the dog-catchers got there.
One canine rescued on Christmas morning was christened Christmas. "It was really a battle. We didn't know AVA, and AVA didn't know us. But things are better now."
The next month, SOSD asked him to be its president. Today, the group rescues 15 strays every month, and re-homed 62 last year. It became an official charity two weeks ago.
He dreams of "the quiet life" living by a lake in New Zealand, with enough space for all his dogs to run around. But his dream has to contend with his calling.
"I cannot move until things are done here. The journey has started but then there's other places – Malaysia, China… I think if you have the power to create change, you have to. That's why I can't stop now."
And as he found his calling and meaning in dogs, which he calls his "friends" and "children", he also found Buddhism and began to shed his superficial views on image and looks.
It is an irony not lost on him, given his profession.
"At one point I was trying to pursue wealth, branded goods. I bought an Audi because 'Oh, I've got to show people that I'm rich', which I wasn't. I used to be obsessed with appearances. I would buy a lot of beautiful clothes, go to parties, Tatler events, Gucci openings and all that.
"But now it's all changed. What's important is how you treat people. It's a good change, because then my patients trust me. They realise I'm in it for their benefit. They know I won't oversell."
And what do his patients and others think of his alter ego as a dog saver?
"Superhero? On Facebook people always call me Superman. But to me, we all just do what we can do."
Source: The Straits Times