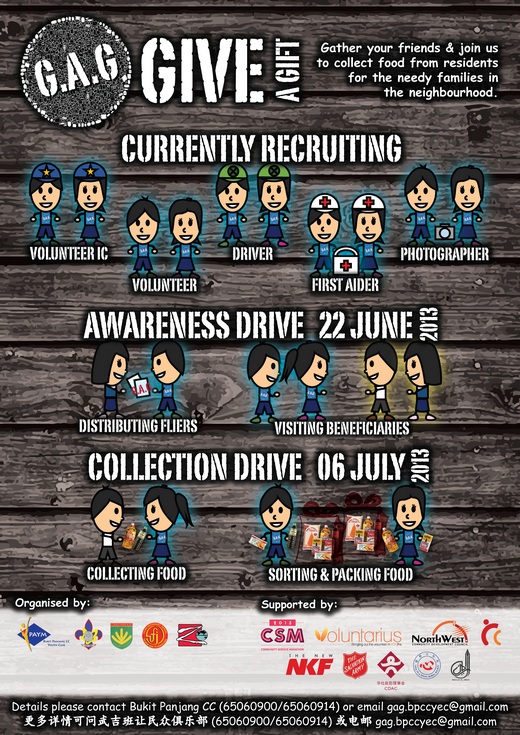 Give A Gift is an event where residents donate food items, which are then collected, sorted and packed for distribution to needy families in the area. This year, GAG will be reaching out to over 300 beneficiaries living in Bukit Panjang, with more than 200 volunteers chipping in their time and sweat! If you'd like to be part of them, you're at the right place!
Date and Time: 22 June (8.30am – 1pm) and 6 July (8.30pm – 6.30pm)
Venue: Bukit Panjang Community Club Hall and neighbourhood
Volunteer Roles:
Volunteer Coordinators – Flyer Distribution cum beneficiary reminders
Volunteer Coordinators – Food Collection
General Volunteers – Flyer Distribution
General Volunteers – Food Collection
General Volunteers – Beneficiary Reminders
General Volunteers – Sorting/Packing
Van Drivers cum Vehicle Commander
First Aider
Photographer
Videographer
This event is organised by Bukit Panjang Community Club Youth Executive Committee and the Fox Scout Group.
If you are interested to volunteer, please email gag.bpccyec@gmail.com