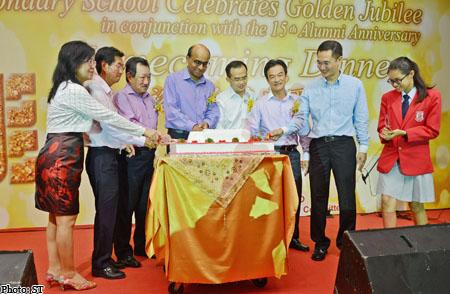 Jurong Secondary School Friday night launched its Project Compassion scheme which will see 600 of its students carry out a door-to-door survey in Taman Jurong next year to identify members of the community in need of more help.
Low-income families and the elderly are among those whom students will be encouraged to locate, with information collected to be shared with the area's Citizens' Consultative Committee.
The project has been set up by the school's advisory committee, which has pledged $50,000 to it over five years.
It was launched at Jurong Secondary's 50th-anniversary dinner on Friday night by Deputy Prime Minister Tharman Shanmugaratnam, who is adviser to the committee.
He said: "Many students today do not know what poverty is like and what it is like to start off poor and move up. This project is to help the students understand the lives of the poor, to help them have as good a life as possible."
Mr Tharman hoped it would also help students to "grow in their character" and "help us to rebuild and strengthen the soul of our nation, generation after generation".
Mr Tharman, who is also MP for Jurong GRC, handed out certificates to four Secondary 3 students who will lead the first proposal under Project Compassion.
One of the four leaders, 15-year-old Kimberly Tan, said: "We hope to use Civics and Moral Education lessons and assembly time to train the students on how to interact with residents, and how to collect data.
"At the same time we hope to inform residents on the various community services available to them, such as the eldercare facility located in Taman Jurong."
Students will get to submit proposals on ways to improve their community and environment to a selection panel.
Those whose proposals are selected will receive a grant, project management training and teacher mentorship to help them achieve their aim.
The four student leaders will deploy their schoolmates in the Secondary 2 and 3 cohorts to gather information about Taman Jurong residents.
Source: The Straits Times