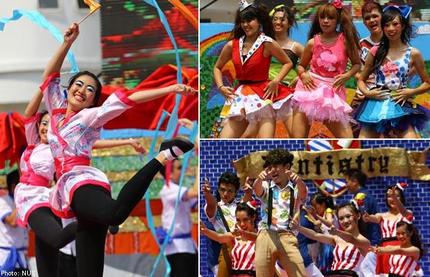 National University of Singapore's (NUS) University Town was transformed into a kaleidoscope of vibrant costumes and performances as the students celebrated Rag and Flag Day with Minister for Education Mr Heng Swee Keat.
Rag day, held on Aug 7, is the University's way of thanking the public for their generous donations during the NUS Students' Union (NUSSU) Flag Day which took place the day before.
About 6,000 freshmen and seniors from NUS collected more than $415,700 from members of the public islandwide for 19 charities including the Rainbow Centre, Lighthouse School and Marine Parade Family Service Centre.
Themed 'Extending Love, Experience NUS', the 55th edition of Rag Day featured 14 performances put up by around 800 NUS students from various faculties and residences. Mobile displays constructed using recycled materials were also used instead of the usual floats.
NUSSU President Goh Ren Kai said, "While celebrating our traditions and heritage, NUSSU Rag and Flag also aims to promote the spirit of giving back to the society amongst NUS Students. NUSSU hopes to emphasise empathy and compassion for others as fundamental guiding values for the NUS Community."
At Rag Day, student groups with the best designs and performances were awarded gold, silver or bronze honours. They were judged on a criteria of creativity, aesthetic appeal and relevance to theme, as well as choreography.
This is the first time the event was held in the newly built NUS University Town.
Members of the public can still pledge their online donations till Aug 31 here.
Source: Edvantage