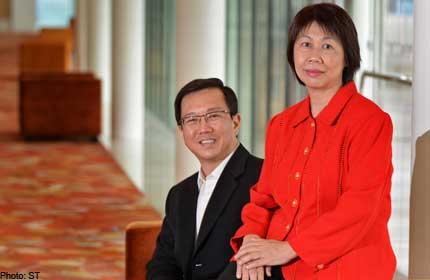 Family members who care for dementia patients will get a helping hand under a new initiative that clinched first prize in a fund-raising contest on Friday.
The idea by the Alzheimer's Disease Association won over judges in the competition, which involved non-profit organisations pitching ideas for social projects.
Friday's event was part of the three-day Sands For Singapore Festival, a charity drive that aims to raise money for six beneficiaries including the Community Chest.
The association won $111,000 in prize money after its pitch received 10 out of 20 votes from corporate sponsors.
This money will be used to set up a day care centre in Tiong Bahru where family members who look after dementia sufferers can spend time with their loved ones instead of simply dropping them off.
Staff from the association will give them training on how to care for the patients. And carers can take turns to help each other, providing a much-needed breather.
"This programme will allow caregivers to come together to help and support each other," said the association's chief executive Jason Foo. "It is very stressful to be a caregiver to a dementia patient and they can get frustrated or depressed."
Four other contenders made the final of Friday's competition at Marina Bay Sands: namely, The Singapore Association for the Deaf, Bishan Home for the Intellectually Disabled, En Community Services Society and youth hangout *Scape.
Each team had three minutes to pitch ideas to a panel of 20 judges made up of corporate sponsors including Credit Suisse and engineering services firm Cyclect Holdings.
Judging criteria included how innovative the ideas were and whether they promoted giving and volunteering in the corporate sector.
The total of $251,000 in prize money was divided, depending on the votes each proposal received.
Cyclect Holdings director Marcus Tan said the Alzheimer's Disease Association had "gone one step further to get family members to be a part, and that helps to strengthen the bond between the caregiver and the patient".
Acting Minister for Culture, Community and Youth Lawrence Wong, who was the guest of honour at the Pitch To Win event, stressed the importance of corporate social responsibility.
"(Volunteerism) comes down when our youth graduate and enter the workplace," he said.
"This is why it is important for corporate leaders to help shape a positive culture at work."
Source: The Straits Times