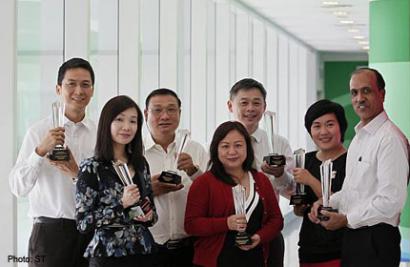 Mr Tony Tay's typical work day can stretch up to 14 hours as the 66-year-old cooks and distributes food to the poor.
His routine starts at 4.30am, when he heads to the Genting Lane kitchen of Willing Hearts, the charity he founded, to oversee the preparation of 3,000 meals.
After the food is delivered to 38 distribution points, his focus shifts to the next day's meals, ensuring that such staples as bread and rice as well as eggs, meat and vegetables have not run out.
He calls it a day around 7 pm.
This unrelenting dedication to serving the community won the retired businessman top honours yesterday: the President's Volunteerism and Philanthropy Award.
Reflecting on his work since he founded Willing Hearts 10 years ago, Mr Tay said: "We've only one life, so why not make full use of it? As long as I can wake up and can serve, I will do it."
He was among nine recipients of the annual award presented at a ceremony last night by President Tony Tan Keng Yam.
The others include volunteer group Beautiful People, which helps troubled teenage girls, and non-profit organisation Care Corner Counselling Centre.
Their work was also held up by Mr Stanley Tan, chairman of the National Volunteer and Philanthropy Centre, when he urged Singaporeans to do more for the poor and not to "fully delegate it out to the Government".
He said: "Building engaged and compassionate communities means having communities that can look after themselves and the weak among them, are self-reliant and not dependent on the Government to solve every single problem."
Care Corner Counselling Centre's winning feature is its hotline counselling service, manned by volunteers who are encouraged to put in at least 100 hours a year.
The volunteers get 18 months of training before they tend to the calls.
The hotline is for those who prefer anonymity or are house-bound for medical reasons, said manager Jonathan Siew.
"About 30 per cent of our callers have mental health problems such as depression or anxiety," the 42-year-old added.
Beautiful People, founded in 2006, began as befrienders, working with organisations such as Pertapis Children's Home to offer activities such as make-up and cooking lessons.
"But we soon realised that what would help them get out of the cycle of poverty would be to get a decent job," said Ms Dawn Kong, 40, a founding member of the group.
Now, it equips the girls with skills for the workplace. In 2011, it even partnered high-fashion label Hermes on a charity project, which saw 12 girls from welfare homes working at Hermes roadshows for three weeks.
"We try to let the girls have a taste of what it's like to work in their dream industry," Ms Kong said.
"That gives them an incentive to chase their dream."
Winners all
President's Award for Volunteerism
Standard Chartered Bank: Gives staff three days of volunteer leave every year. Involvement in community projects is also part of staff performance objectives.
Care Corner Counselling Centre: Runs a counselling hotline operated by volunteers who have to undergo an 18-month training programme.
Beautiful People: Mentors troubled girls to equip them with life skills.
Mr Tony Tay: Founder of soup kitchen Willing Hearts is still involved in the preparation and delivery of meals.
President's Award for Philanthropy
The Keppel Group: Commits up to 1 per cent of its annual profits to the Keppel Care Foundation, which was launched last year.
Children's Cancer Foundation:
Its signature event, Hair for Hope, raised more than $3.7 million last year.
Professor Saw Swee Hock: Donates extensively to tertiary institutions, most notably the National University of Singapore.
President's Award for Social Impact
HCA Hospice Care: One of the largest providers of home hospice care here, specialising in training caregivers in palliative care.
President's Special Recognition Award
Dr Oon Chiew Seng: After studying how dementia patients are cared for overseas, she set up Apex Harmony Lodge in 1999 for dementia sufferers here.
Source: The Straits Times