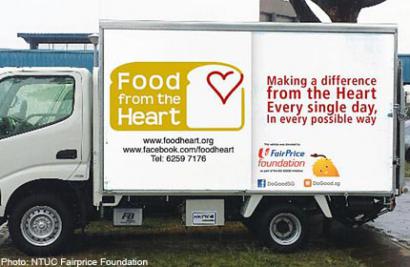 Food rations reaching the elderly a day late, disabled athletes unable to get to training and chronically ill children struggling to get to schools and hospitals.
These are some of the problems plaguing welfare bodies which lack transportation options for clients – but help is at hand.
NTUC FairPrice Foundation on Tuesday set aside $1 million to retrofit and donate six vans to six voluntary welfare organisations (VWOs). The vans can ferry passengers with limited mobility, such as those using wheelchairs.
The six groups are Club Rainbow, which helps children with serious illnesses; day rehabilitation centre TP HealthCare; Singapore Red Cross; Food from the Heart; Highpoint Community Services Association, which helps ex-offenders; and the Singapore Disability Sports Council.
"Transportation costs add a sizeable financial burden for VWOs and we hope that by providing these vehicles, FairPrice Foundation can help free up some of their limited funds for other purposes," said Ms Tan Hwee Bin, director of NTUC FairPrice Foundation.
For the Singapore Disability Sports Council, the new van will boost its two-van fleet offering free transport for disabled young athletes to daily training sessions.
President Mohan Menon said some athletes could not attend training as often as they wished, given the transport shortage.
Club Rainbow also had only two vans, which can take up to a total of five children at a time. They were shared among 150 or so children with mobility issues. With the extra van, more children can be ferried to schools and hospitals and for other activities.
Mr Anson Quek, executive director of Food from the Heart, said the new van will allow it to get food faster to beneficiaries and to reach out to more elderly in far-flung areas. "With our current three vans, we have a backlog and sometimes food reaches late by a day. It may mean less food on the table for some."
Source: The Straits Times