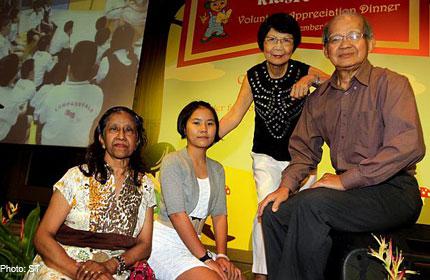 Not only does Ms Sulochana Raman spend her weekdays working with children with disabilities, but she also spends Sundays reading to 22 children from low-income families at the Choa Chu Kang Community Club.
The 65-year-old teaching assistant was one of the 469 volunteers honoured on Tuesday for their efforts in this year's edition of kidsRead, a nationwide reading scheme organised by the National Library Board.
"I've had parents coming to me to ask if I can extend the class till [the children] are 10 years old," she said with a laugh.
Started in 2004, kidsRead ropes in volunteers to read and teach English to underprivileged children between the ages of four and eight, with the aim of helping them cultivate an early love of reading.
Recipients last night ranged from teenagers to retired senior citizens. They each logged at least 40 hours a year with kidsRead, with the top volunteers receiving "platinum" awards for putting in more than 100 hours. Ms Sulochana was one of them.
Commending them in his speech, the guest of honour, Minister for Communications and Information Yaacob Ibrahim, said: "Not all parents have the means or skills to help their children cultivate the reading habit… you are giving these children a better chance to succeed in life."
For retiree Jimmy Ho, 70, and his wife Grace, 65, who have volunteered with kidsRead since its inception, their efforts were not forgotten.
The couple, who received a gold award for more than 80 hours of work, were heartened to hear from their first batch of six pupils, who asked them out for a meal.
"Three of them are now poly students, two are in JC, one in Sec 5… so it was rewarding to see the progress they have made," said Mrs Ho.
The programme expanded this year to include 200 student volunteers from 10 secondary schools who are helping out at new kidsRead clubs in 17 primary schools.
For Elizabeth Chua, 14, who took home a bronze award for reading to children at Compassvale Primary, the learning goes both ways.
"Reading helps me learn English and improve my pronunciation, so I can speak better," said the Compassvale Secondary student.
Source: The Straits Times