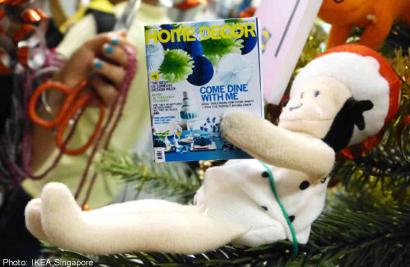 Share the joy of the festive season at Ikea's Christmas tree auction this weekend. In the spirit of giving, all proceeds from the auction will go to help families and children in need.
To be held on December 7 and 8 at Ikea stores in Singapore, 16 fully-decorated, 1.6m tall Christmas trees will be auctioned as part of Ikea's annual Soft Toys for Education campaign.
Funds raised from this charity auction will all be donated to the Food From the Heart; the non-profit organisation works to help feed the underprivileged in Singapore.
Ikea has roped in Singapore deejays, as well as magazine and newspaper titles including Home & Decor and Lianhe Wanbao to help decorate these Christmas trees with cute plushies.
This year, the child beneficiaries of the charitable programme join in the decorating fun too. They adorn eight trees with their favourite toys, which will also be on sale as part of the charitable auction.
Bidding for each Christmas tree starts from $100.
Soft Toy Christmas Tree Charity Auction Date and Time: December 7, 2pm (Ikea Tampines) and Dec 8, 2pm (Ikea Alexandra) Venues: Ikea stores at 317 Alexandra Road, Singapore 159965 and 60 Tampines North Drive 2, Singapore 528764
Go to www.ikea.com.sg/treeauction and follow Ikea Singapore on Facebook for more information.